German Slump Eases Slightly as Lockdown Restrictions Relaxed
(Bloomberg) -- German private-sector activity continued to fall in May, though at a less pronounced pace than in April as lockdown measures were eased.
Both manufacturers and service providers saw steep drops in production, with a composite gauge of activity remaining weak. Earlier this month, Germany began allowing businesses such as restaurants and hotels to reopen.
But business sentiment remained negative and employment numbers continued to decline. The survey also showed more evidence of the use of short-time work.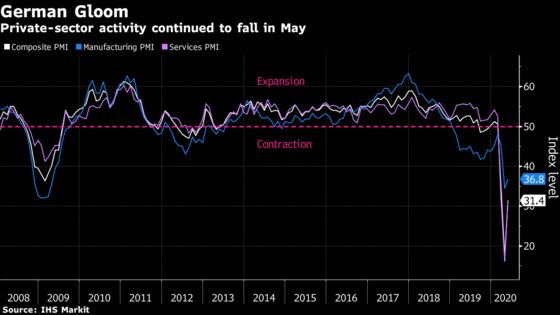 "Any hopes of a swift pick-up in activity across the German economy following the easing of lockdown restrictions have been somewhat dashed," said Phil Smith, principal economist at IHS Markit, which produces the report. "We are still a long way off business as usual and the path to recovery remains unclear."
IHS Markit's purchasing managers' index for Germany came in at 31.4, above April's reading of 17.4. A gauge for the eurozone is due later on Thursday.
Germany High Frequency Data Dashboard

GERMANY INSIGHT: Recession Tracker – High Frequency Dashboard