German Services Keep Economy Afloat as Manufacturing Contracts
(Bloomberg) -- Germany's services providers bolstered economic momentum in February, with a slump in manufacturing deepening on the back of global trade tensions and weakness in the auto industry.
IHS Markit's composite Purchasing Managers' Index rose in February to a four-month high of 52.7. Owing exclusively to more optimism in services, business confidence was the best since September. Manufacturing suffered from the steepest decline in export orders in more than six years.
The euro remained higher against the dollar, having jumped earlier on the back of better-than-forecast numbers from France, the euro region's second-biggest economy. Its PMI rose to a three-month high of 49.9 in February.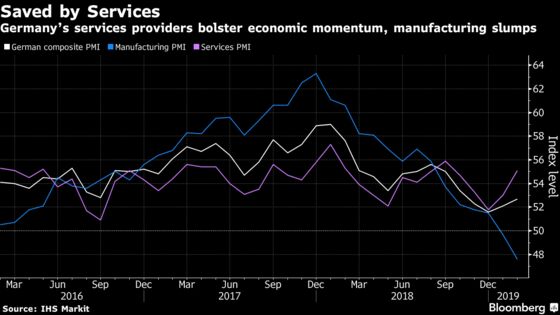 The reports come as European Central Bank officials try to analyze the severity of the slowdown in Germany and the euro area, as well as strategies to respond.
"Germany's manufacturing and service sectors remain on very different paths," said Phil Smith, an economist at IHS Markit. "Measured overall, the data remain indicative of a very modest rate of underlying output growth."
Despite the weakness in German manufacturing, companies continued to add jobs, according to the IHS Markit report.
"The strength in employment is perhaps surprising given the order book situation and lack of pressures on capacity," Smith said. "Goods producers are seemingly looking through the current soft patch in demand."