German Pork Export Bans Could Last at Least a Year, Shipper Says
(Bloomberg) -- German pork could remain shut out of some of the world's top markets for at least a year as the country works to contain its outbreak of a deadly pig virus, according to Europe's biggest meat producer.
China and other key Asian buyers slapped bans on supply from Germany -- one of the European Union's key shippers -- after an outbreak of African swine fever in wild boar in September. Those markets often maintain restrictions until affected producers have been free of new cases for 12 months, meaning it could take a year or more before access resumes, said Jais Valeur, chief executive officer of Danish Crown Group, which operates one of Germany's largest abattoirs.
The German outbreak has been contained to two eastern states and no livestock farms have been affected. As of mid-November, about 150 infected boar had been detected in Brandenburg, according to the government's health ministry. While the country can still trade within the EU, restrictions have weighed on pig prices across the continent.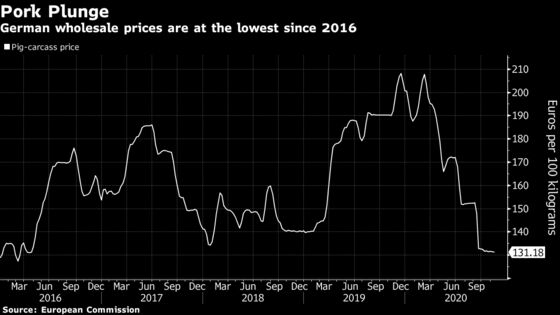 Chinese demand for pork has been rampant due to its own ASF outbreaks, which decimated herds last year. The country's livestock farms are now rebuilding. Denmark, where Danish Crown is headquartered, ships about a third of its output to China, while the U.S. and Brazil have picked up much of the slack of Germany's lost market share, Valeur said in a phone interview.
Strong exports to Asia helped buoy Danish Crown's earnings during the 2019-20 financial year, it said on Thursday. The company has pork operations in five European countries, as well as China.