German Orders Rise for Third Month, Underpinning Recovery Hopes
(Bloomberg) -- German factory orders unexpectedly rose for a third month, underpinning growth momentum after Europe's largest economy contracted in the third quarter.
Orders gained 0.3 percent in October from the previous month, compared with the median estimate in a Bloomberg survey for a 0.4 percent drop. It's the longest streak of monthly increases in a year. Orders dropped 2.7 percent on the year.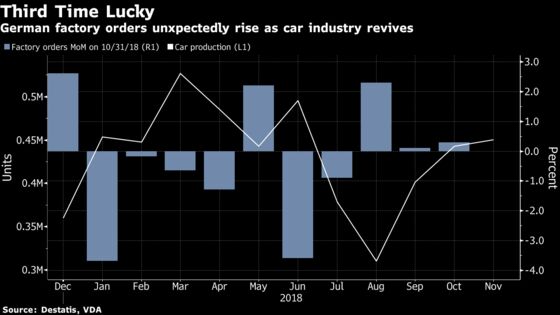 The report confirms a Bundesbank prediction that the economy would see a fairly strong rebound in the fourth quarter as auto makers adapt to new emission testing and ramp up production. It comes at a key moment for the European Central Bank, where policy makers appear determined to cap-bond buying at year-end despite mounting signs of weakening momentum in the euro area.
Demand for investment goods was bolstered by orders from the euro area, which surged 9.9 percent. Total orders from within the 19-nation bloc increased the most since January 2016.
The Economy Ministry said the impact of new emissions-test standards is still noticeable in the car industry, although progress has been made in restarting production. Vehicle orders have revived markedly from a trough in July, according to the statement.
Domestic orders fell the most since April.
A report by IHS Markit earlier this week showed manufacturing activity in Germany lost momentum in November as new orders contracted at the fastest pace in four year. The report pointed to geopolitical uncertainties and struggles in the car industry as reasons for weaker demand both domestically and abroad.
The ECB will likely decide on Dec. 13 to freeze its asset-buying program at 2.6 trillion euros ($3 trillion). Policy makers have pledged to maintain a significant degree of stimulus through reinvestments of maturing bond.
A recent report showed business activity in the euro area at its weakest level in more than two years and Italy on the verge of recession. Those numbers will probably come too late for the new growth and inflation projections policy makers will receive next Thursday, even though they will feed into their assessment of the risks to the outlook. The Bundesbank will release its forecasts for the German economy on Dec. 14.
Prospects for German growth next year will very much depend on China's ability to grow faster and reach a lasting agreement with the U.S. on trade, according to a Commerzbank report. Demand for European products suffered on the back of a softening expansion in the world's second-largest economy.