German Order Books Vindicate Bundesbank Belief in Economic Boom
(Bloomberg) -- The Bundesbank's confidence in the German economy may sometimes seem at odds with news about trade wars, slowing growth and crumbling optimism in the outlook -- but then there are order books.
The backlog of work that factories in Europe's largest economy have accumulated is enough to keep them humming for more than five months, longer still for producers of basic and intermediate goods. That puts in context the German central bank's claims that the economy "continues to boom" -- despite a slide in a range of indicators from business sentiment to output.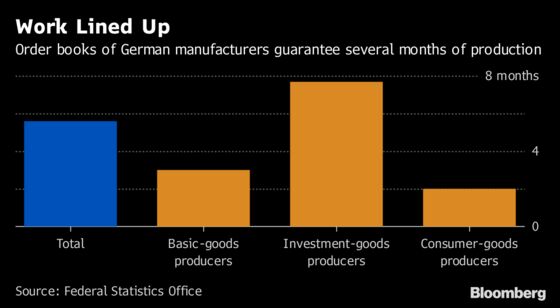 New numbers from the Federal Statistics Office show that backlogs rose for a 16th consecutive month in March.
Still, it's not all completely positive. The increase was the slowest since July and below the 2017 monthly average of 0.7 percent. A continued accumulation of work could also be a symptom of bottlenecks and capacity constraints, something that could ultimately hold back the expansion.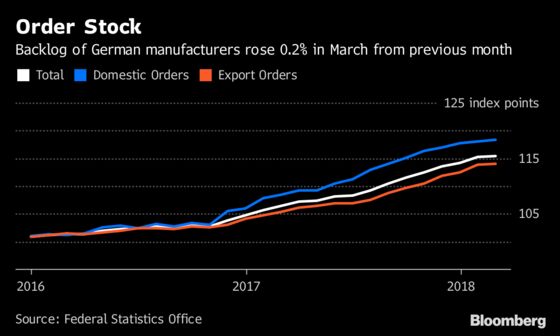 Officials at the European Central Bank will be watching this and other forward-looking gauges carefully as they try to determine whether a slowdown at the start of the year will prove temporary or persistent. So far, they have been remarkably sanguine about weaker-than-forecast numbers, pointing to cold weather, strikes and a flu epidemic while expressing confidence the economy will continue to grow fast enough to lift inflation.
The central bank's Governing Council holds its next policy meeting on June 14, when it will release new economic projections.