Germany Suffers Double Blow on Factory Slump, Downgrade
Germany's painful industrial slump shows little sign of ending, with factory orders plunging the most in a decade in February, led by a drop in exports.
The bad news from the Economy Ministry was followed just hours later by new forecasts for 2019 that predicted the weakest growth in six years. The country's five leading research institutes see expansion of 0.8 percent, just half the pace previously anticipated.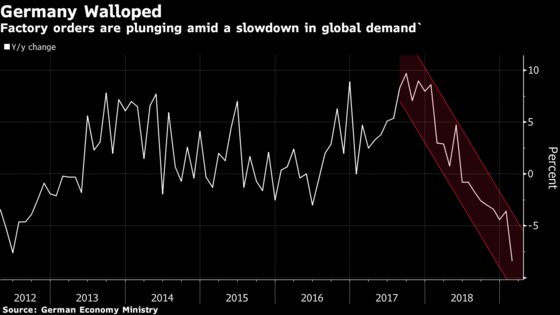 The data on Thursday showed orders fell 4.2 percent in February from January, and 8.4 percent from a year earlier -- the most since 2009. The Economy Ministry added further gloom, saying that manufacturing momentum will "continue to be subdued in the coming months, particularly due to a lack of external demand."
The big drag in February was exports, which fell 6 percent. Trade tensions and Brexit woes are two factors likely behind the slump, while there's also weaker demand, particularly in China, for cars and other German products.
All that is sapping the engine of growth, leaving Europe's largest economy looking in poor shape so far this year.
"What the trade war is doing is it's causing companies to stop capex," Karen Ward, market strategist at JPMorgan Asset Management, said on Bloomberg Television. "That's why we've seen the industrial turndown that we've seen, again in the German orders numbers. So for all the while it's on simmer, we're going to have corporates remaining hesitant and that's going to keep a lid on growth."
A number of companies have cut their 2019 forecasts in response to the slowdown. Infineon late last month cited "continued global economic uncertainties and weaker end-market demand," and Osram pointed to softening growth and geopolitical tensions. BMW AG warned earnings will fall "well below" last year's level.
The deteriorating outlook for manufacturing is a further warning sign to policy makers overseeing the euro-area economy.
European Central Bank officials will meet next week to offer their latest policy assessment. At their update in March, projections for 2019 were slashed by the most since just before the start of quantitative easing, triggering fresh stimulus for banks and a pledge to keep interest rates low for longer.