German Business Confidence Improves as Virus Restrictions Ease
Confidence in Germany's economic outlook improved in May after the nation's vaccination campaign progressed and authorities started to loosen coronavirus restrictions.
The Ifo institute's gauge of business expectations for the next six months rose to 102.9, exceeding all but one estimate in a Bloomberg survey. Current conditions were also assessed more positively, after the economy shrank 1.8% in the first quarter.
German authorities have started to loosen curbs on economic activity, gradually allowing shops and restaurants to reopen after the nation's vaccination campaign picked up speed and infection rates fell. About 40% of the population has now received at least one shot.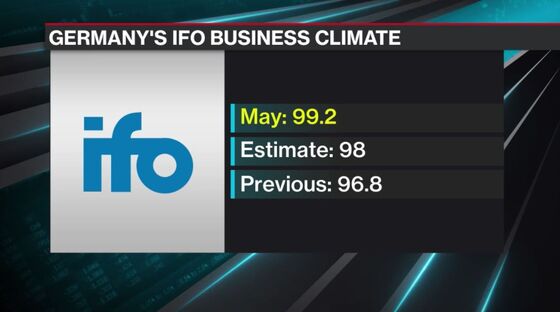 Fueled by large amounts of household savings and pent-up demand, the economy is set to rebound strongly in the coming quarters. The International Monetary Fund last week said it expects output to return to pre-crisis size early next year. The Bundesbank is more optimistic and predicts it could already happen at the end of 2021.
But there are still some risks that could derail the recovery. New variants of the virus could force the government to impose new restrictions, and many businesses are suffering from supply-chain constraints for which there is no end in sight.
In the first quarter, the economy suffered a 5.4% slump in private consumption. Trade also was a drag on output.