German Inflation Jumps by Record After Crisis Tax Cut Phased Out
(Bloomberg) -- German inflation surged by a record in January after the government phased out a temporary sales-tax cut and introduced a new emissions-pricing scheme.
Consumer prices rose 1.4% from the previous month, pushing the annual inflation rate to 1.6%, more than three times economists' forecasts. Prices were also boosted by an increase in the minimum wage.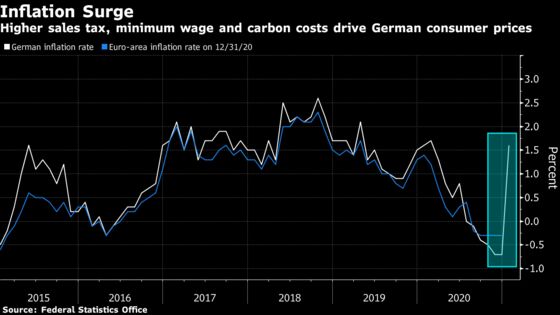 Inflation slowed sharply last year amid the pandemic crisis and turned negative in August as a result of a reduction in value-added taxes to stimulate demand.
The Bundesbank has predicted inflation would likely be "clearly positive" this month. At the same time, it said ongoing business closures made it difficult to predict to what extent tax effects would be reflected in the newest data.
While higher inflation in Germany may provide some respite to European Central Bank officials who have unleashed repeated salvos of monetary stimulus in their attempts to ignite price growth, significant uncertainty over the recovery remains. At the same time, policy makers have argued they won't react to a temporary shock as demand returns.
Coronavirus infections are still surging across the continent, and the spread of more infectious strains along with vaccine shortages raises the risk tight restrictions will remain in place for longer.
Germany's lockdown -- currently expected to last until at least mid-February -- will probably be extended, with Health Minister Jens Spahn warning of "at least another 10 tough weeks" of scant supply of the drugs.
Eurostat is due to release a gauge of euro-area inflation next Wednesday.