German Inflation Fails to Accelerate as Growth Outlook Darkens
(Bloomberg) -- German inflation held steady in January amid a significant deterioration in the economic outlook, adding to the challenges the European Central Bank faces in weaning the euro area off unprecedented stimulus.
Consumer prices in the region's largest economy rose an annual 1.7 percent, the same pace as in December. The preliminary reading was below the median estimate of 1.8 percent in a Bloomberg survey.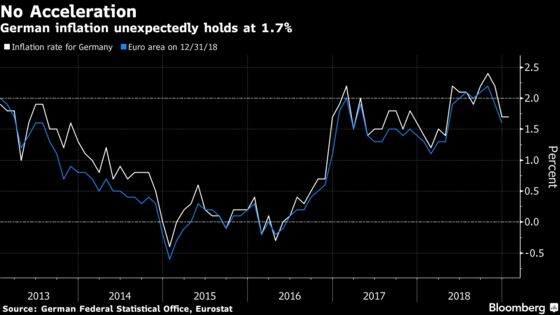 The report comes just hours after the German government slashed its 2019 growth forecast to 1 percent, almost half the 1.8 percent pace projected as recently as October, citing a deteriorating global trading environment. That would be the weakest in six years.
The German economy only barely avoided a recession at the end of 2018, and business confidence fell in January to its lowest level in almost three years. ECB President Mario Draghi said last week that risks to growth in the 19-nation euro region have moved to the downside. At the same time, he maintained that a strong labor market will help underpin domestic demand.
Germany's Federal Labor Agency will publish its January report on Thursday. Economists forecast a decline in joblessness of 10,000. Eurostat will release inflation data on Friday.