German Industrial Output Unexpectedly Gains in Euro-Zone Boost
(Bloomberg) -- German industrial output unexpectedly advanced for a second month in March, bolstering confidence that Europe's largest economy may soon start climbing out of its rut.
Production increased 0.5 percent, beating the estimate for a 0.5 percent decline, though the previous month's gain was revised down to 0.4 percent. The March performance was led by consumer goods, while construction -- a bright spot the previous month -- rose 1 percent. Output was down 0.9 percent from a year earlier.
The euro ticked slightly higher on the news, and was up 0.2 percent to $1.1212 as of 8:03 a.m. Frankfurt time.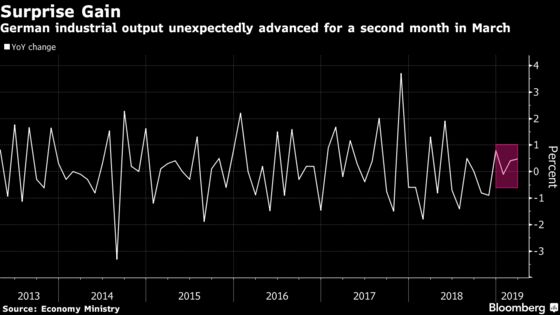 An upturn in Germany's economy would be a sizable boost for the euro area after months in which the nation's factories have been hit by slowing global demand, and temporary shocks such as disruption to the car industry and low river levels. The auto industry increased output by 0.4 percent in the first quarter, the Economy Ministry said, while noting that's "clearly below the production levels at the beginning of last year."
What Bloomberg's Economists Say:

"Germany's industrial production data for March is reassuring news. It confirms output in the industrial sector expanded in the first quarter, after two quarters of sharp declines, and shows a pick up in manufacturing activity."
-- Maeva Cousin. See her GERMANY REACT
The European Commission on Tuesday slashed its estimate of German growth this year to just 0.5 percent and said the downside risks to the euro-area outlook remain "prominent.''
That scenario has worried policy makers, prompting the European Central Bank to delay plans for an interest-rate hike and prepare fresh loans to banks. While reports such as purchasing managers indexes and corporate earnings have shown nascent signs that the regional economy may at least be close to stabilizing, Germany has so far remained a concern.
The nation's factory orders came in weaker than forecast for March, and April PMIs showed that the private sector is being driven by growth in services that is barely compensating for a contraction in manufacturing.