German Industrial Output Unexpectedly Drops as Weakness Persists
(Bloomberg) -- German industrial production unexpectedly dropped in October, highlighting the fragility of Europe's largest economy as it headed into the final quarter.
Output fell 0.5 percent, compared with the median estimate in a Bloomberg survey for a 0.3 percent gain. Production was still up 1.6 percent on the year.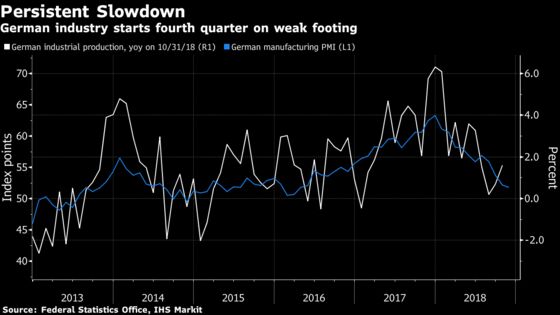 Data on industrial performance can be volatile form month to month, yet they do raise question marks over a Bundesbank prediction that the economy will see a fairly strong rebound in the fourth quarter. Uncertainty around the outlook is increasing at a key moment for the European Central Bank, where policy makers appear determined to end bond buying this month despite mounting signs of weakening momentum in the euro area.
Energy and consumer goods led the decline in the latest German production data, with construction also being a drag. At the same time, investment goods increased for a third month,
While weakness in German industry persisted at the start of the fourth quarter, strong orders for cars signal that momentum should pick up again in toward the end of the year, the Economy Ministry said in statement.
A report by IHS Markit earlier this week showed manufacturing activity in Germany lost momentum in November as new orders contracted at the fastest pace in four years. The report pointed to geopolitical uncertainties and struggles in the car industry as reasons for weaker demand both domestically and abroad.
Data on Thursday showed factory orders unexpectedly rose for a third month, with demand for investment goods bolstered by orders from the euro area.
Labor costs rose 1 percent in the third quarter, the most in almost two years.
A breakdown of growth data for the euro area is due at 11 a.m. in Luxembourg. Economists predict investment and government spending slowed in the third quarter, when quarterly expansion halved to 0.2 percent.
Business activity in the euro area is at its weakest level in more than two years, with Italy on the verge of recession. Data for October retail sales in the country are due at 10 a.m. in Rome.
ECB officials will probably decide on Dec. 13 to cap their asset-purchase program at 2.6 trillion euros ($3 trillion). They've pledged to maintain a significant degree of stimulus by keeping interest rates low and reinvesting maturing bonds.