European Output Gauges Decline, Feeding Doubts Over Rebound
(Bloomberg) -- Industrial output in two of Europe's largest economies unexpectedly declined in December, feeding concerns that temporary growth setbacks may prove more protracted.
Production slumps in Germany and Spain cap a quarter that has seen a spate of disappointing data across the 19-nation euro area. Weak demand and business sentiment have weighed on momentum, and an unexpected drop in German factory orders at the end of last year points to further challenges ahead.
The euro fell after the German release and traded at $1.1354 at 10:00 a.m. Frankfurt time, down 0.1 percent on the day.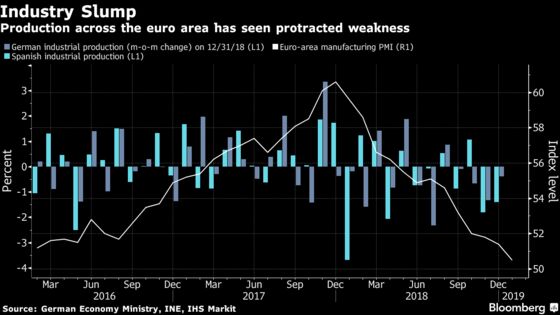 "In light of receding orders and soft sentiment indicators, momentum in industry should continue to be muted," the Germany's Economy Ministry said in a statement accompanying its data release.
The country's decline in output was led by a 4.1 percent slump in construction, while manufacturing stabilized on the back of higher investment-goods production. In Spain, all sectors saw production drop, with durable consumer goods and energy showing the biggest weakness.
While European carmakers have started to recover from their struggles with new emissions-testing standards that pushed Germany to the brink of recession, recent business surveys suggest the region's economy remains vulnerable. A purchasing managers' index for manufacturing recorded the worst reading in more than four years at the start of 2019, with the sector gradually approaching the level between expansion and contraction.
Company earnings reports appear to underscore the struggles. Infineon Technologies said Tuesday it plans to reduce investments, arguing that high levels of uncertainty have sidelined customers. GEA Group issued a profit warning on Thursday citing further deteriorating macroeconomic conditions.
The European Commission will publish updated forecasts for the euro area on Thursday.