German Growth Slows More Than Expected to Four-Year Low
(Bloomberg) -- German economic growth was the weakest in almost four years in November as both services and manufacturing cooled.
The composite Purchasing Managers' Index for Europe's largest economy dropped to 52.2 in November from 53.4 last month, according to a flash reading released by IHS Markit on Friday. The result, below all estimates in a Bloomberg survey of economists, pushed the euro lower. It was down 0.3 percent shortly after the release.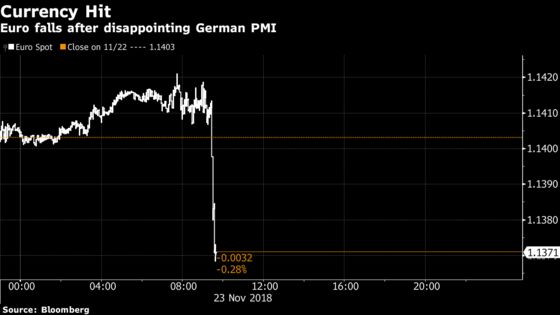 Output shrank in the third quarter for the first time since 2015 as the automobile industry was hit by new emissions testing. While that dragged down the whole euro zone, the question is whether the slowdown is temporary or more serious.
The PMI points "to a sustained loss of underlying growth in the euro area's largest member state," said Phil Smith, an economist at IHS Markit. "Weakness in external markets continued to act as a restraining factor on performances across the private sector economy."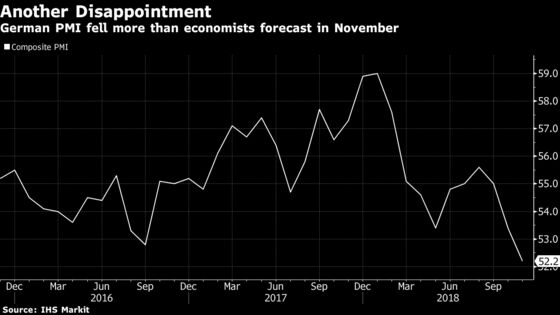 The European Central Bank has downplayed weaker growth so far and plans to wind down its asset-purchase program at the end of this year. President Mario Draghi will present updated ECB forecasts at the next policy decision on Dec. 13.
Earlier, France's composite PMI reading edged down to 54 from 54.1 in October. Economists expect the euro area gauge to slip to 53 from 53.1. A reading above 50 indicates expansion, below that marks a contraction.