German Foodies Are Shifting Their Country's Inflation Basket
(Bloomberg) -- Changing dining preferences in Europe's largest economy are having an effect on key economic indicators.
German inflation figures will now give more weight to restaurant spending -- among other categories -- reflecting a shift in consumers' habits. The country's statistics office on Thursday released an updated overview of its inflation basket, which comprises the goods and services for which price data is collected on a monthly basis.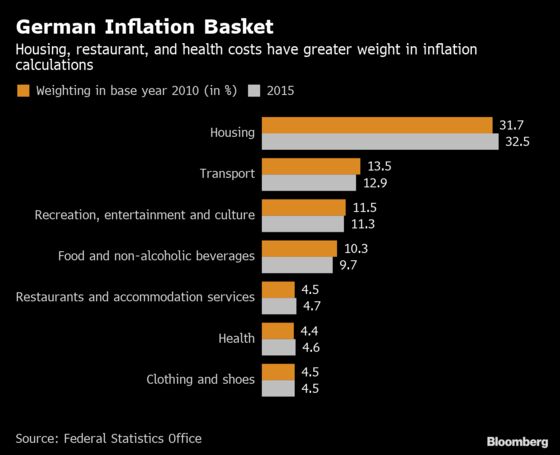 While food products and beverages previously made up 10.3 percent of an average consumers' spending basket, that share has been lowered to 9.7 percent. There are a number of reasons, according to the stats office: people in developed economies typically spend an increasingly small proportion of their income on food, and discounters make it easier for people with lower incomes to choose cheaper options. At the same time, a trend toward organic foods may have resulted in more money being spent on some products.
In addition, Germans are shelling out more to eat in restaurants. That expense is now given a weight of 3.6 percent in the inflation basket, up from 3.4 percent five years ago. It suggests lower spending on food items is being made up for in gastronomy, even if the country's restaurant spending still ranks far behind some of its euro-area neighbors.
The weight of housing costs also rose, though mostly because rents for garages were re-categorized from transport
Health expenses gained importance, probably because of Germany's aging population
The statistics office also revamped how it tracks the price of package holidays, making seasonal swings more apparent, and replacing less popular destinations like Tunisia with hot spots such as Greece or the Balearic Islands
Whether the higher share of restaurant spending ultimately boosts headline inflation in Germany or the euro area as a whole remains to be seen. Service-intensive areas such as restaurants and recreation have been slow to pass on higher employee wages to their customers via price increases, European Central Bank Chief Economist Peter Praet said on Thursday.
"Is it related to new technologies, is it related to competition etc.?" he said in Luxembourg. "We really need to go into that."