Euro-Area Economic Confidence Rises Despite New Virus Curbs
(Bloomberg) -- Economic confidence in the euro area picked up in December, with manufacturers in particular showing resilience against a resurgent pandemic that's triggered tougher restrictions across the region.
A European Commission sentiment index rose by 2.7 points to 90.4 from the previous month, mainly driven by optimism among consumers and in the industrial sector. An indicator for employment expectations also recovered from a drop in November.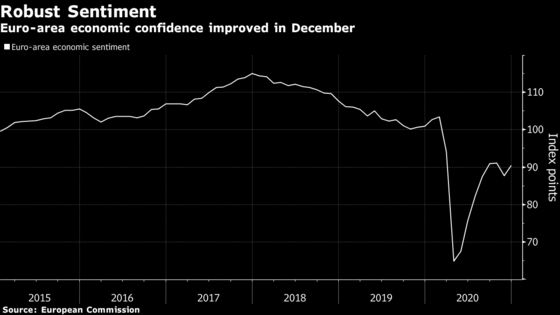 The data adds to evidence that the European economy entered the second wave of lockdowns in relatively robust shape. Italy and Spain saw some of the strongest gains in confidence in December. Services providers and retailers -- those most directly hit by government curbs -- recorded a slight drop in sentiment.
While the economy may have fared better in the fourth quarter than anticipated, there's growing uncertainty about performance at the start of 2021. Germany, the euro area's largest economy, this week decided to keep most stores, restaurants and recreational facilities shut until at least Jan. 31. A slow start to vaccination campaigns is also casting doubts on how quickly businesses will be able to recover.
The latest curbs are likely to interrupt Germany's recovery in the winter half, Bundesbank President Jens Weidmann said on Thursday. However, his institution isn't fundamentally questioning its latest forecasts, which foresee growth of 3% this year, he added.
The European Central Bank increased monetary stimulus in December and extended emergency asset purchases to March 2022, seeking to keep borrowing costs low for companies and households. Governments have also pledged continued support.
The region's inflation rate held at -0.3% in December for a fourth consecutive month, with a measure excluding volatile items such as food and energy remaining at a record low.
In the wider euro area, retail sales dropped 6.1% in November, the most since April when the first wave of lockdowns was fully under way.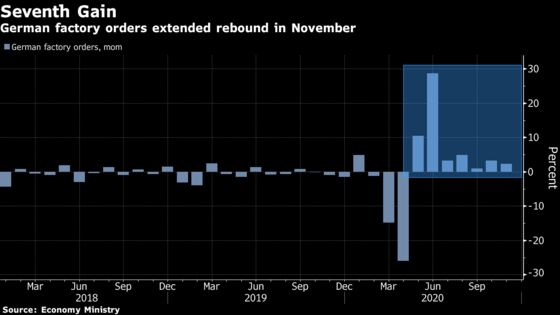 Germany's manufacturing sector held up particularly well late last year even as infections continued to rise. Factory orders increased 2.3% in November, bolstered by investment-goods orders from the euro zone, according to national data released Thursday.
Economists had predicted a decline of 0.5%. The Economy Ministry said the gain took the level of orders to more than 6% above pre-crisis levels.
Read more:
EURO-AREA REACT: Inflation Steady, Set to Increase in January
GERMANY REACT: Factory Orders Revival Points to 4Q Growth