German Factory Orders Slip as Euro-Area Demand Deteriorates
(Bloomberg) -- German factory orders fell more than expected in November, though the numbers were distorted by airplane orders that masked signs of underlying momentum.
Orders slid 1 percent from October, and posted a year-on-year decline of 4.3 percent, the biggest in more than six years. The monthly decline was partly due to aircraft orders, which had jumped in October, as well as weakness in the euro area.
While there are questions over the outlook for the German economy, the euro area's biggest, the Bundesbank has long expressed confidence that it will overcome the slump seen in mid-2018. Responding to the factory data on Monday, Commerzbank said the decline "should not be over interpreted."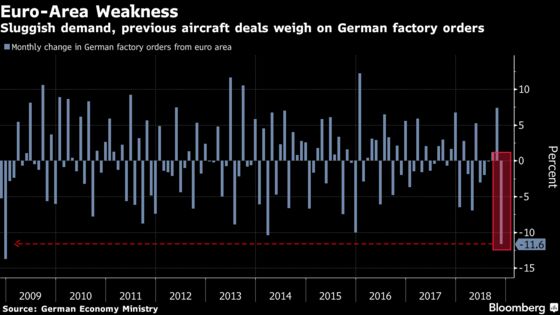 Euro-zone orders slumped 11.6 percent in November, the most since December 2008. Demand from the region was weak across all categories, and a drop in investment goods amplified by a bulk-order intake the previous month.
Airbus logged orders for 85 planes in October, which included a commission from Lufthansa AG of 17 A320neo aircraft.
Domestic demand and orders from outside the 19-nation euro area improved.
The Economy Ministry said combined October and November orders are about half a percent above the third-quarter average, adding that the high backlog suggests industrial momentum is picking up somewhat.
The car industry us also gaining ground after a change in emissions-test rules damped output and led to an economic contraction in the third quarter. The sector posted a 4.5 percent gain in orders in November.
A separate report showed retail sales rose 1.4 percent in November, the most in seven months.
A report by IHS Markit last week showed weakness in German manufacturing is spilling over into services, where growth in December was the slowest in more than two years.
More than half of Germany's small and medium-sized enterprises think the economy could contract this year, hobbled by slowing global growth, trade disputes and a stuttering auto sector.
German unemployment fell to a record low in December, and the labor agency said demand for new workers remains very high.