German Factory Orders Rise as European Economy Turns Corner
German factories saw demand rising for a third month in March, underscoring the resilience of the country's manufacturing sector in the face of extended coronavirus lockdowns.
Orders increased 3%, twice the pace forecast in a Bloomberg survey. Demand for machinery, data processing equipment, electrical and optical goods as well as car manufacturing was particularly strong, the Economy Ministry said.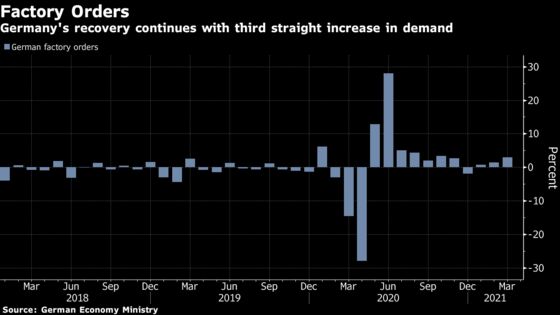 Helped by strong recoveries abroad, German manufacturing has held up well during the latest rounds of restrictions to limit the spread of the coronavirus. The high level of activity means companies are now battling with unprecedented supply-chain problems as shortages of parts and raw materials add to a spike in freight costs.
Meanwhile, the German services sector is strained after nearly six months of strict lockdown measures that kept scores of shops, restaurants and other businesses shut. Economic output in Germany fell 1.7% in the first quarter, more than economists had expected.
In March, the biggest drivers of orders came from domestic demand and consumer goods, suggesting private consumption is starting to pick up.
With vaccinations accelerating and European Union stimulus set to start flowing in the coming months, the region is set for a strong rebound in the second half. The German government expects the country to grow 3.5% this year, following a slump of around 5% in 2020.