German Factory Orders Rebound Less Than Forecast After Slump
(Bloomberg) -- Go inside the global economy with Stephanie Flanders in her new podcast, Stephanomics. Subscribe via Pocket Cast or iTunes.
German factory orders rose for the first time in three months in March, though the increase was smaller than economists forecast and marks only a partial recovery from a recent slump.
Orders were up 0.6 percent, less than half the 1.4 percent median estimate. It followed steep declines in the two previous months that had stoked concerns that the manufacturing slump in the currency bloc's biggest economy would linger, dragging down the wider economy and necessitating more stimulus.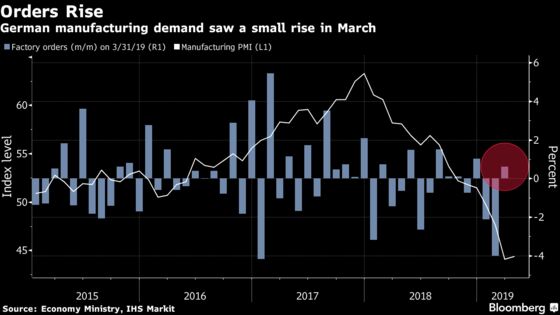 Orders for consumer goods led the rebound. Still, the report suggested that Germany's own economy is a chief area of weakness. Total domestic orders slid 4.2 percent, compared with a 4.2 percent jump in export demand. Orders were down 6 percent from a year earlier, easing from the slump recorded in February.
A slew of recent reports have signaled the euro-area economy may be on the verge of halting its slowdown. Growth accelerated in the first quarter and some surveys have started to improve. Still, much depends on global trade tensions, which worsened this week after U.S. said it will raise tariffs on Chinese imports.
Purchasing manager's indexes on Monday showed that economic activity in Germany and in the wider region remains driven largely by the service sector, with manufacturing still the weak spot.