German Exports Drag Economy to First Contraction Since 2015
(Bloomberg) -- Germany's first economic contraction since 2015 was led by a drop in exports and private consumption, a trend that needs to be reversed if the Europe's largest economy is to rebound before the end of the year.
The 0.2 percent decline in the third quarter, matching the initial reading, has been blamed on a slump in the auto industry that the Bundesbank and government predict will be temporary.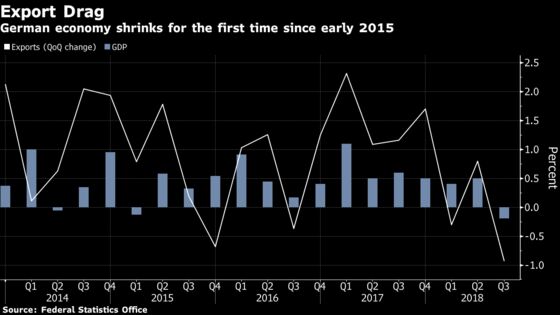 The data published Friday will feed into the debate at the European Central Bank over whether it can afford to end cap euro-area stimulus at the end of the year as planned. It showed exports plunged 0.9 percent in the period, while private consumption fell 0.3 percent. There was strong growth in capital and construction investment.
| Category | Third Quarter | Second Quarter |
| --- | --- | --- |
| Gross domestic product | -0.2 | 0.5 |
| Private consumption | -0.3 | 0.3 |
| Government spending | 0.2 | 0.8 |
| Capital investment | 0.8 | 0.5 |
| Construction investment | 0.9 | 0.9 |
| Domestic demand | 0.8 | 0.7 |
| Exports | -0.9 | 0.8 |
| Imports | 1.3 | 1.5 |
Trade was the biggest drag on growth, subtracting 1 percentage point from GDP, while private consumption took away 0.1 percentage point
Investment was the biggest boost to GDP, adding 0.9 percentage point, though most of that category was inventories, which added 0.7 percentage point
The Bundesbank said this week that it expects to see "fairly strong growth again" in the final three months of the year as car production returns to normal after being blighted by new emissions-testing rules
Germany's economy is key to the euro zone's expansion, which has been struggling as risks including trade protectionism, Brexit and Italy's spat with the European Union weigh on sentiment
The ECB will hold its final policy meeting of the year on Dec. 13, when it will decide whether to end its asset-purchase program as planned, and will unveil updated economic forecasts
Policy makers have acknowledged the economic weakness, but say indicators still point to expansion and domestic demand remains robust