German Exports Drop Most Since 2012 as Trade Damps Growth
(Bloomberg) -- German exports fell the most in more than five years at the start of 2018, holding back growth in Europe's largest economy.
A breakdown of first-quarter gross domestic product data showed foreign sales fell 1 percent, the most since 2012. Imports also declined, and net trade knocked 0.1 percentage point off GDP.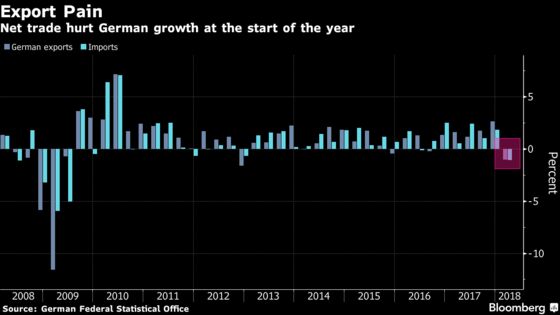 "The drop in exports could be a first sign that the appreciation of the euro in 2017 has started to leave its mark on the economy," said Carsten Brzeski, an economist at ING-Diba in Frankfurt. But "strong private consumption, the pick-up of investments and low inventories still bode well for the German growth outlook."
The euro has gained more than 11 percent against the dollar since the start of 2017. It was up 0.3 percent at $1.1732 as of 11:35 a.m. Frankfurt time.
The euro-area economy also experienced a slowdown in the first three months of 2018. Despite assurances by European Central Bank officials that weakness would be temporary, the region's PMI showed a further loss of momentum in May. ECB chief economist Peter Praet was unfazed on Thursday.
"There are clouds, but economic conditions are good," Praet said at a conference in Brussels. The trailing off in indicators is attributable in part to supply constraints, he said, adding that the rallying euro is probably the cause of some of the slowdown.
The German GDP report showed government spending also slipped in the first quarter. Overall economic growth -- confirmed at 0.3 percent -- was supported by consumer spending and capital investment.
Click here for a detailed table of first-quarter GDP
After the first-quarter slowdown -- partly blamed on bad weather -- surveys this month suggest an immediate rebound isn't yet assured. Germany's composite purchasing managers index of private-sector activity fell to a 20-month low in May. Despite the flurry of weaker numbers, the Bundesbank has maintained its view that growth will pick up again in the second quarter, ensuring that the country's boom will continue.
Siemens AG has raised its outlook for full-year earnings amid "impressive" digital business. German food wholesaler Metro AG, on the other hand, has cut its outlook for earnings-per-share growth this year, citing a stronger euro. The single currency gained more than 14 percent in 2017.
Looking ahead, risks to the outlook are manifold. President Donald Trump announced his administration is investigating import tariffs on cars and trucks -- a measure that would hit Germany hard. The U.S. is the largest export market for luxury cars manufactured in Germany ahead of the U.K. and China, according to German auto industry association VDA.