German Economy Robust at End of 2020 But Near-Term Outlook Weak
(Bloomberg) -- Germany's economy proved more resilient to the coronavirus than expected at the end of 2020, though extended lockdowns and slow vaccine rollouts mean the start of 2021 still looks bleak.
Output rose 0.3% in the fourth quarter as construction picked up and exporters benefited from stronger international demand. Consumer and government spending both dropped.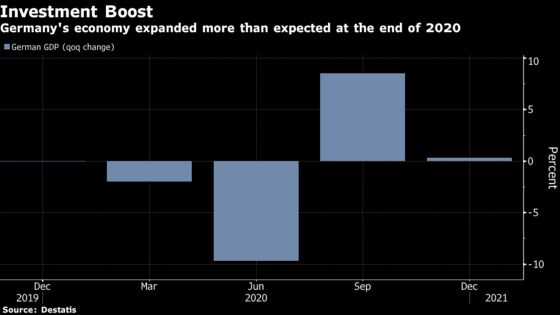 The dominant concern for Europe's largest economy now is that activity will remain restrained until vaccinations allow virus restrictions to be loosened. Business closures and social constraints have been repeatedly extended, and European Union vaccinations lag far behind the U.S. and U.K.
"The stricter lockdown measures since mid-December, the harsh winter weather in February, a reversal of any pre-Brexit hoarding in the U.K. and weaker foreign demand at least from other euro-zone countries have increased the risk of an unwelcome rotation," Carsten Brzeski, global head of macro at ING, wrote in a report. "The growth drivers of the fourth quarter could easily become drags in the first."
German Chancellor Angela Merkel's government has warned that the country is in the midst of a third wave of coronavirus infections and that moves to reopen schools and businesses should be weighed with caution.
Economists surveyed by Bloomberg expect the nation's economy to contract by 1.5% in the first quarter.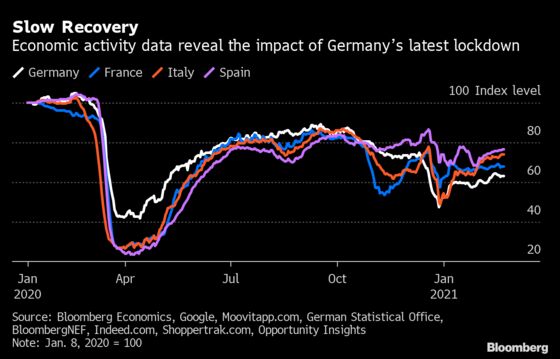 The hope is that a recovery can finally gain traction in the second quarter. The EU is starting to catch up in securing vaccine supplies and is on track to immunize its population faster than anticipated. German companies surveyed by the Ifo institute this month said they're increasingly optimistic for a rebound, despite the current struggles.