German Economy Shrinks for First Time Since 2015 on Auto Hit
(Bloomberg) -- The German economy shrank for the first time since early 2015 after the auto industry took a hit.
The 0.2 percent contraction in the third quarter was worse than expected and the biggest in more than five years. While the hope is that the setback is related largely to new emissions tests that temporarily disrupted car production, the data are likely to feed into fears that the euro area's expansion is running into trouble.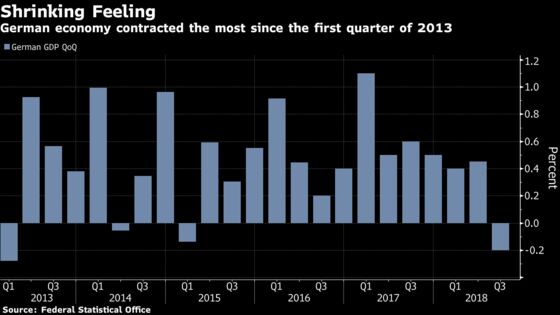 The statistics office doesn't give a detailed breakdown in this reading and didn't mention the car industry, saying exports and private consumption both dropped, but equipment investment and construction rose. Data from the VDA German carmakers' association show that September production plunged 24 percent compared with a year earlier.
What Our Economists Say...
"The good news is that the economy will expand at a decent clip so long as auto output doesn't take another leg down -- and that's highly unlikely. We expect a material rebound as industrial production picks up a bit further through the quarter."

--Jamie Murray, Bloomberg Economics. Read the full REACT
The third-quarter weakness in Germany dragged on the euro area, with data later on Wednesday forecast to show its economy expanded at the weakest pace since 2014. While the ECB has already downplayed the loss of momentum, a year-end revival isn't assured. Germany's manufacturing sector -- which accounts for almost a quarter of economic output -- may feel the pain of trade tensions and China's slowdown.
Dutch growth also proved slower than expected, with momentum increasing just 0.2 percent in the third quarter. In Japan, the economy also shrank in the period after an earthquake, typhoons and torrential rain battered production. As with Germany, a rebound is forecast after the annualized 1.2 percent drop in the three months through September.
Read more
Low Rates Leave German Financial System Exposed, Bundesbank Says
Closer to home, Italy is mired in a budget battle with its European Union partners, and growth stalled last quarter for the first time in almost four years.
Any signs of persistent weakness in Germany, which accounts for a third of the euro area economy, would play into the thinking among ECB policy makers as they complete their exit from three years of large-scale bond-buying.
But Chief Economist Peter Praet said while there's been a slowdown in the euro area, domestic demand remains "robust."
"Fluctuations in the data can't hide the fact that the economic upturn in Germany and the euro area remains intact," Bundesbank President Jens Weidmann said on Wednesday.