German Third-Quarter Growth Got Hamstrung by Investment Slump
The German economy expanded less than initially reported in the third quarter, hampered by a drop in investment spending. 
Total output increased 1.7%, below the 1.8% reading by Germany's statistics office in late October. Private consumption was the big driver during the three-month period, increasing 6.2%. But the government cut its expenditure, while investment in machines and vehicles slumped 3.7% and that in construction dropped 2.3%.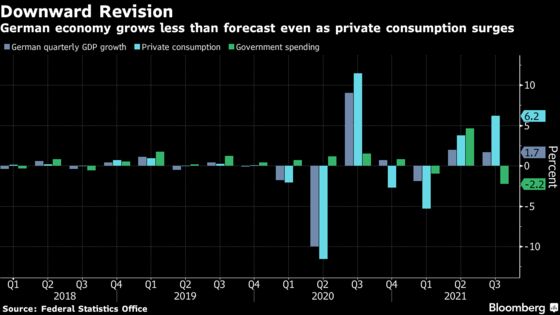 With its focus on manufacturing, Europe's largest economy has faced headwinds due to the global supply crunch, with carmakers particularly affected by a shortage in chips. That has led to downward revisions to the growth outlook, and a worsening of pandemic now has the country on alert for a possible lockdown. 
Moreover, unprecedented inflationary pressures are threatening to restrain German output in the coming months. Inflation data due Monday may show a November reading just under 6%, according to the Bundesbank.
Read more: 
German Economy Haunted by 'Unprecedented Inflationary Pressures'