German Companies See Supply Squeeze Lasting Until Next Year
(Bloomberg) -- Most German companies expect widespread supply-chain problems to persist into next year, threatening to damp the economy's post-pandemic recovery.
Only about a fifth of almost 3,000 firms polled by the Association of German Chambers of Industry and Commerce, or DIHK, said they expect the situation to improve this year, while a quarter isn't able to make a judgment on when things will get better, the group said on Thursday. 
"The shortage of raw materials and supply-chain problems are hitting the German economy in full scale," said Volker Treier, head of foreign trade at the DIHK. "The current developments can make the economic recovery from the crisis significantly more difficult."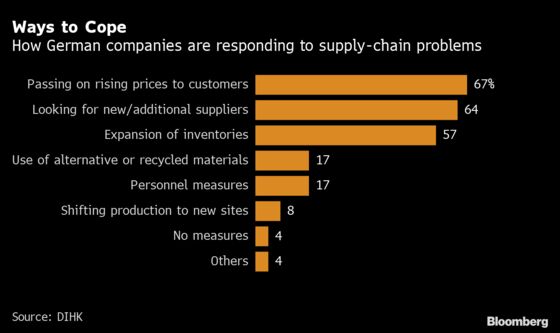 While Germany's manufacturing sector initially allowed the country to fare better than its European peers during months of coronavirus restrictions, fortunes reversed in the second quarter. The reopening of tourism and hospitality businesses propelled growth in places including Italy and Spain, while shortages of parts and raw materials weighed on the region's largest economy.
Total output rose 1.5% in the second quarter, and the Bundesbank has said that momentum should pick up over the summer -- as long as the supply squeeze eases gradually and there's no major setback due to rising infections. In June, it predicted growth of 3.7% this year and 5.2% in 2022.
Those forecasts are now at risk after Covid-19 infections resurged across Europe and Asia. The world's third-busiest container port in Ningbo has been partially shut after a dock worker became infected with the delta variant of the coronavirus, worsening congestion at other major Chinese ports. 
Some 88% of German companies in the survey reported higher prices for goods and services they use for their own production. Two thirds said they're passing rising costs on to customers, casting doubt on the assumption that a current spike in inflation will fade quickly. 
The shortages could mean that accelerating inflation "doesn't remain a short-term phenomenon, but will influence the global economy in the medium to long term," said Treier.