German Business Sentiment Holds Up Against Virus Concerns
The mood among German business hasn't being dramatically shaken by the coronavirus outbreak, suggesting they see a short-term impact that won't overly disrupt a pickup in 2019.
The closely watched Ifo confidence index unexpectedly rose this month, as did a measure of expectations. The increase comes as executives wait to see if authorities can get the outbreak under control before it does further damage to Chinese and global growth. Companies have already cut profit forecasts because of the epidemic, which has shut factories and curtailed demand.
The euro pared its decline on the news, and was little changed at $1.0826 as of 10:31 a.m. Frankfurt time.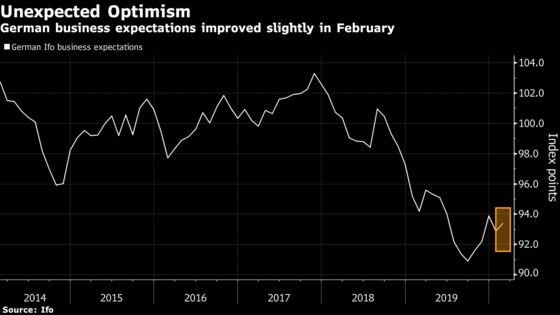 European surveys of activity proved stronger than expected in February, indicating some resilience across the corporate world. Those readings were in stark contrast to numbers out of Asia, which showed weakness in a number of nations as well as a sharp contraction in Japanese manufacturing. Even in the U.S., a measure of business activity dropped to the lowest in six years.
"The German economy seems unfazed by the developments around the coronavirus," said Ifo President Clemens Fuest. "The survey results and other indicators suggest economic growth of 0.2% in the first quarter."
But the numbers may already be out of date. Stocks plunged Monday amid growing fears about the spread of the virus, and Italy locked down an area of 50,000 people near Milan.
| Ifo Gauges | February | January |
| --- | --- | --- |
| Business Climate | 96.1 | 95.9 |
| Expectations | 93.4 | 92.9 |
| Current Assessment | 98.9 | 99.1 |
The economic implications were a key topic global finance chiefs discussed this weekend at a meeting in Riyadh. While ministers and central bank governors are still working under the assumption that growth will rebound relatively quickly, they agreed on a "menu of policy options" to counter the emergency if needed.
The outbreak is proving a significant risk to the global economy and a setback to Europe's recovery from a manufacturing recession.
Germany, the region's largest economy, stagnated in the final three months of 2019, though it's expected to return to growth this quarter. The statistics office will update its estimate for fourth-quarter GDP on Tuesday, along with details on consumer spending, exports and investment.