German Business Sentiment Slid Amid New Round in Trade Spat
(Bloomberg) -- German business confidence slipped amid an intensifying trade war between the U.S. and China and emerging-market turmoil.
The closely-watched Ifo institute's index of business confidence fell to 103.7 in September. The median forecast in a Bloomberg survey was for a drop to 103.2 from a revised 103.9. Measure for current conditions and expectations slid.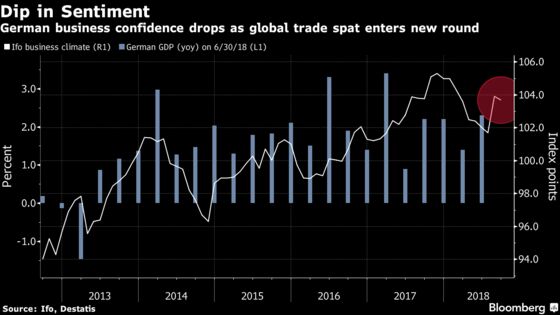 Germany's dependence on exports and its significant trade surplus leave the country particularly exposed to global trade frictions. In the latest salvo, President Donald Trump imposed tariffs on $200 billion in Chinese goods. Beijing pledged to retaliate and said it won't hold talks to resolve the impasse as long as the U.S. keeps threatening new levies.
Souring sentiment in Europe's largest economy is evidence to back up European Central Bank President Mario Draghi's claim that protectionism, emerging-market volatility and financial turmoil risk weighing down growth.
Yet, the Bundesbank has said the German economy can cope with any repercussions thanks to strong domestic demand and a buoyant labor market. It predicts growth will rebound markedly and has blamed recent weakness in factory orders and production on temporary problems of automakers with new emissions-test procedures.
Manufacturing confidence declined in September, according to Ifo, while sentiment in services was broadly unchanged.