German Business Outlook Improves as Weak Year Draws to Close
German business expectations improved for a third month in December, a sign manufacturers are starting to see a way out of a yearlong downturn that's left Europe's largest economy deeply scarred.
It's the first piece of encouraging news after a gauge of factory activity pointed to an unexpected worsening at the end of 2019, and the Bundesbank predicted growth will remain sluggish at least through 2020 as the impact of trade tensions, weaker global growth and political uncertainty only slowly wears off.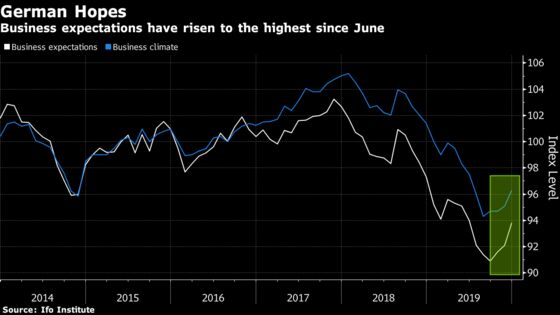 The Ifo Institute's gauge rose the most since mid-2018 to 93.8, exceeding most estimates in a Bloomberg survey. The measure of the current situation rose, as did the overall business climate indicator.
Fledgling optimism among the 9,000 firms surveyed adds to assertions by the Economy Ministry as well as private investors that -- despite remaining risks -- Germany's outlook is gradually getting brighter.
What Bloomberg's Economists Say

"The expectations balance, the component we pay most attention to, posted another decent gain. Momentum is undoubtedly weak and growth fragile, but the survey data flow is consistent with our forecast for a modest acceleration in GDP growth in early 2020."

-- Jamie Rush. Read the GERMANY REACT
The increase in sentiment, partly on the back of the U.S.-China trade agreement, is just the first step, and it may be some time before hard data follow. Both industrial production and factory orders dropped at the start of the fourth quarter.
The trade deal is "good news and probably one of the reasons companies become more optimistic," Clemens Fuest, president of the Ifo Institute, said on Bloomberg Television,. "At the same time, many companies are still cautious, because we know U.S. commercial policy is very volatile."
Last week, the European Central Bank lowered its projection for growth in the wider euro area next year. At the same time, President Christine Lagarde pointed to signs of stabilization and argued downside risks had become "somewhat less pronounced."