Worsening Mood in Germany, France Damps Euro-Area Rebound Hopes
(Bloomberg) -- Go inside the global economy with Stephanie Flanders in her new podcast, Stephanomics. Subscribe via Pocket Cast or iTunes.
Key gauges of confidence in the euro area's two largest economies unexpectedly deteriorated, signaling that a long-expected rebound may still be some way off.
Manufacturing has been at the heart of economic weakness in Germany, fed by fears of protectionist trade policies and weakening global demand. In France, disruption caused by Yellow Vest protests has damped growth momentum. Consumers too are getting nervous, with a euro-area measure down at a four-month low.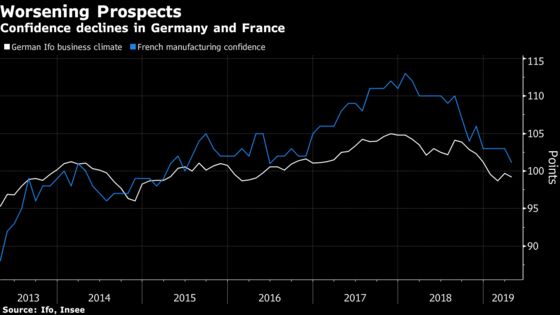 Ifo said its closely watched index of German business sentiment dropped to 99.2 in April, missing forecasts for a slight improvement. Measures for current conditions and expectations among executives declined. In France, confidence in manufacturing slumped to the lowest level in almost four years as business leaders' assessment of their own production plunged.
Yields on euro-area government bonds have tumbled this year as a sharper-than-anticipated slowdown and subdued inflation fueled bets the European Central Bank will need to keep interest rates lower for longer. Today's report sent yields on German 10-year bunds, the region's benchmark, three basis points lower to just above zero. They touched minus 0.09 percent in March, the lowest since 2016.
At the ECB, some policy makers expect a stabilization, and possible improvement, during the year. They're awaiting an update of their own projections in June to pass judgment over the state of the economy, and have already prolonged record-low interest rates.
Subdued momentum across the 19-nation euro area has triggered a range of downgrades in the economic outlook. In Germany, the government has slashed its full-year projection to predict the weakest growth in six years. France's expansion will probably cool as well -- despite a 10 billion euro ($11 billion) stimulus package aimed at calming anti-government protests.