Turkey Hits Brakes on Rates But Doesn't Rule Out Further Hikes
(Bloomberg) -- Turkey's central bank kept its official borrowing costs on hold but pledged further tightening should last month's dramatic interest-rate hike fail to curb inflation.
The Monetary Policy Committee kept the one-week repo rate at 24 percent on Thursday, in line with the forecasts of all but four of the 29 economists surveyed by Bloomberg. The lira soared.
In September, the MPC raised the benchmark by 625 basis points, bringing the total amount of tightening this year to over 11 percentage points.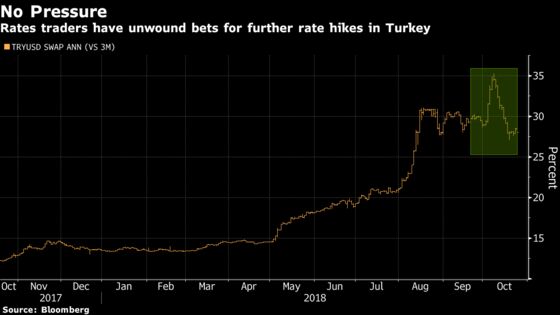 The lira has stabilized and pressure to forge ahead with monetary tightening has eased since Turkey defused a diplomatic standoff with the U.S. this month by releasing an American pastor charged with espionage. Policy makers were probably encouraged by the currency's performance to wait and see how the rate increases feed through to inflation, according to Halk Yatirim economist Banu Kivci Tokali in Istanbul.
"Today's decision shows the bank won't hesitate to deliver additional tightening should recent decisions fail to curb inflation and spillovers from the lira increase risks to price outlook," she said in an emailed note.
The Turkish currency was trading 1.2 percent stronger at 5.6375 versus the dollar at 4:01 p.m. in Istanbul, trimming the year's losses to under 33 percent, according to data compiled by Bloomberg.
Consumer inflation climbed to nearly 25 percent last month, or five times the central bank's official target. The spike is largely due to a meltdown in the lira, which lost more than a quarter of its value in August partly due to the diplomatic spat with the U.S.
The depreciation has also ravaged the economy, undoing some of the inflationary pressures emanating from a weak lira.
"Although weaker domestic demand conditions will partially mitigate the deterioration in the inflation outlook, upside risks on the pricing behavior continue to prevail," the central bank said in a statement Thursday.
Inflation expectations as well as any delayed impact from past policy decisions will be monitored and, "if needed, further monetary tightening will be delivered," it said.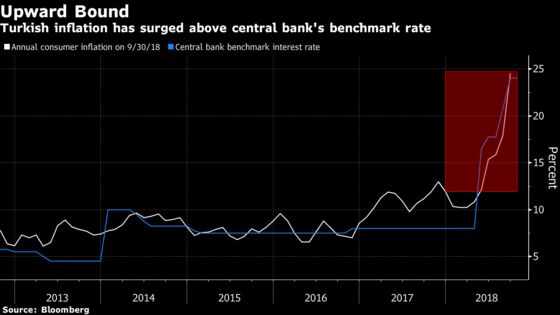 Last month's price developments have already turned real rates offered by the central bank below zero. With an even bigger surge in producer prices signaling little relief ahead for consumer inflation, Piotr Matys of Rabobank was left expecting further tightening as early as this month.
"Another rate hike cannot be excluded," he said before central bank meeting.
It takes months for monetary tightening to work through the economy and have an impact on prices, making it more likely that the central bank will choose to wait and see if liquidity is already restrictive enough, Nora Neuteboom, an economist at ABN Amro NV in Amsterdam, said before the decision.
"The central bank may want to monitor price stability closely in the coming two months and, if it deviates from the baseline scenario, take action in December," she said.