Mozambique's Nyusi Starts Anew as Terror Threatens LNG Boom
Mozambican President Filipe Nyusi was sworn in for a second term Wednesday, three months after his landslide election victory.
Nyusi, 60, took the oath of office at a ceremony in the capital, Maputo, attended by heads of state including Portugal, the country's former colonial ruler, South Africa and Angola. In his acceptance speech Nyusi emphasized the importance of peace for development in the southeast African nation where a 16-year civil war that ended in 1992 has flared sporadically. More recently, an insurgency has emerged in the far north.
"Peace is our absolute priority," he said. "We will defend peace even if it costs us our lives."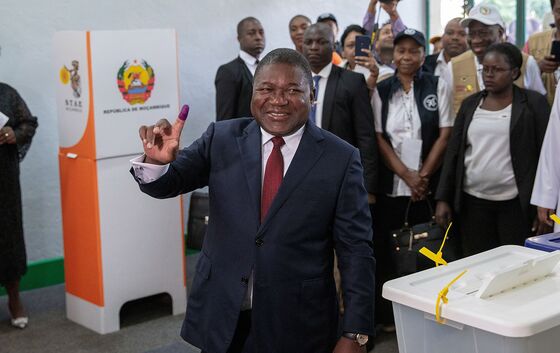 The following are some of the pressing issues that Nyusi will have to deal with over the next five years:
Mozambique is on the cusp of a massive natural gas-led boom. A consortium led by Total SA has signed off on a liquefied natural gas project in the far north of the country that will cost as much as $23 billion. It will be Africa's biggest investment, but won't hold the title for long. Exxon Mobil Corp. plans to approve an even bigger LNG-export development this year. The projects could transform the economy, though Nyusi will need to guarantee security to the companies investing in an area where an Islamic State-linked insurgents have intensified attacks against civilians and security forces.
"We ask our compatriots for some patience in managing expectations because the state coffers will take some time to reap gas dividends," Nyusi said. "We want to prove that energy resources can be a blessing and not a curse."
At least 850 people have died since the first attacks in October 2017, while tens of thousands have been displaced. Islamic State started claiming responsibility for the attacks in June last year and the government has failed to contain the violence, much of it occurring along a critical supply route to the LNG projects. Nyusi will need to adopt a two-pronged approach: halting the attacks while also addressing the factors that drive young men in the region to joining the insurgency. Poverty, unemployment and a lack of development are key issues.
A year into Nyusi's first term, a sovereign debt scandal threw the economy into a tailspin. Donors and the International Monetary Fund halted support after discovering that the government failed to declare $1.2 billion in loans as required under a funding accord with the IMF. The fallout peaked when the U.S. charged the former finance minister with money laundering, and three ex-Credit Suisse Group AG bankers pleaded guilty in the case. There are still at least six ongoing cases related to the alleged fraud.
"We will continue to fight corruption in all its aspects," said Nyusi. "There will be no respite in the fight against this evil."
Nyusi signed a much-touted peace accord last year with Renamo, the main opposition party, formally ending a conflict that most recently flared in the middle of the last decade. Peace was a major selling point of Nyusi's campaign. Still, killings that the police blame on a group of opposition hard-liners have continued. Military convoys are again escorting travelers and transporters through the center of the country. Nyusi will have to find a way to secure the area, which is a key trade corridor for land-locked neighbors, including Zimbabwe.
"We started the demilitarization and demobilization of Renamo elements," said Nyusi. "This process still needs attention."
In March and April last year Mozambique was hit by consecutive tropical cyclones. The first, Idai, killed more than 1,000 people and destroyed infrastructure and houses valued at $1.4 billion. The world's sixth-poorest country is among the most vulnerable to climate change.
Read More
Mozambique's Opposition Plans Protests Against Election Results