EU Has the Cash for Virus Recovery So Here's How to Spend It
(Bloomberg) -- The guardians of the European Union's new 750 billion-euro ($827 billion) recovery plan will have to avoid some big pitfalls to ensure their grand show of unity doesn't fail.
Economists have largely praised the move to get the bloc back on its feet again after the coronavirus pandemic, while warning that it needs to be implemented quickly. It has to achieve the dual task of reviving output and strengthening the EU's ability to ride out future storms.
"Speed is of the essence," said Pietro Reichlin, a professor of Economics at Luiss University in Rome. "The key is supporting consumption to avoid turning the economic loss from businesses being closed, which was temporary though deep, into a much more prolonged recession caused by a shock to consumption. To do that, the money needs to reach people quickly."
One potential cloud, which could dominate upcoming political talks, is "moral hazard" -- governments grabbing easy-to-access cash and using it ineffectively. Italy, which has been long criticized for failing to reform its economy, is due to get the biggest portion of funds.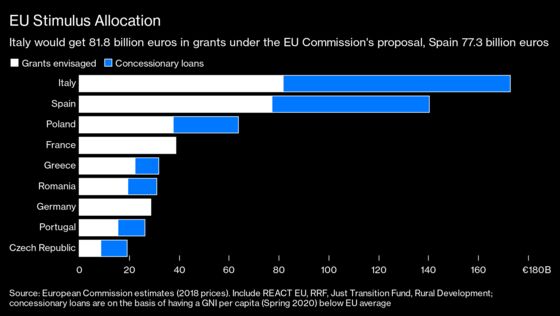 The recovery plan at least partly addresses a gaping hole in Europe's structure that left it more vulnerable than other advanced economies during the pandemic: a common fiscal policy to complements the monetary role of the European Central Bank.
It's groundbreaking in its size -- on top of another 540 billion-euro package announced earlier and the Commission's planned budget of 1.1 trillion euros. It's also remarkable for how much will be handed out as grants, and that it'll be backed by jointly issued debt. It may have saved the union from yet another debt crisis or even collapse.
It won't kick in until 2021 though, and all 27 member states still have to haggle over the design, so the burden remains on national support programs and ECB monetary stimulus for now. The ECB estimates that the economy will shrink between 8% and 12% this year.
"What is the immediate fiscal and macroeconomic boost, that we get from this? It may be more modest than many believe," said Christian Odendahl, the Berlin-based chief economist at the Centre for European Reform. "It's important that national governments complement this investment-led strategy with more down-to-earth, plain-vanilla demand spending of their own."
When the money is freed up, it'll be important to distinguish between liquidity problems -- healthy companies short on cash -- and solvency.
"We should identify productive capacity and save it," said Maria Demertzis, deputy director of the Brussels-based think tank Bruegel. "For saving productive capacity, you should front-load the money. For the investment part, you need to do it in the right time, it won't happen in one year. But there is no reason to procrastinate."
What Bloomberg's Economists Say

"The European Commission's plan to help the EU, especially its hardest hit members, recover from the pandemic may mark an historic turning point in the bloc's capacity to address common challenges."

Maeva Cousin and Jamie Rush. Read their EUROPE INSIGHT
The commission proposal includes elements that could allow for speedy delivery of cash to those in need, such as a 560 billion-euro Recovery and Resilience Facility and another 55 billion euros for "key crisis repair measures and support to the most deprived."
The ultimate goal though is to revamp the economy for the next generation, citing the "twin green and digital transitions" and development of "key technologies" among areas of focus.
ECB President Christine Lagarde delivered a similar message on Wednesday, playing down any concern about the massive debt levels involved, which Bloomberg Economics reckons will be at least 1 trillion euros if government stimulus works. "What really matters" is what it's spent on, she said.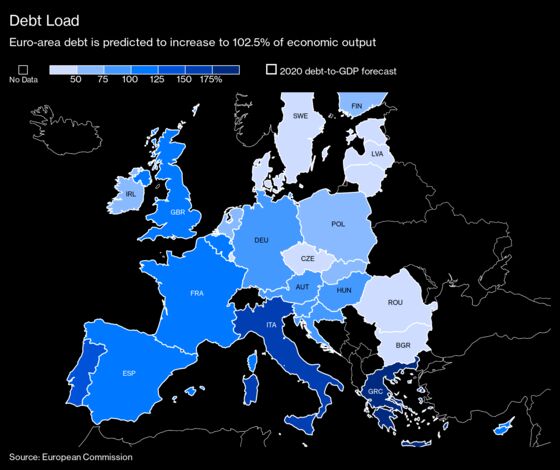 That's where moral hazard comes in. While the Commission has proposed the parameters for spending, countries will design their own recovery plans and receive grants to fund them.
"If some countries have trouble getting back to acceptable levels of debt and growth after the crisis, if they don't put in place reforms, then what?" said Rosamaria Bitetti, an economist at Luiss University. "The concern is for the long-term damage this could do to the European project."
Bank of Italy Governor Ignazio Visco warned on Friday that his country can't expect European help to come "free of charge," and called for a comprehensive package of reforms.
Economists are divided over how much damage moral hazard will incur, but largely agreed that the real imperative is to get a powerful package into place and to send a political signal as well as an economic one.
"If the procedure is there -- and countries will have to hand in the plan so there is some control mechanism -- it should be for the better," said Carsten Brzeski, an economist at ING in Frankfurt who previously worked for the Commission. "It's clear that the plan comes too late for imminent fire-fighting, but it's not too late to increase the structural growth rate of the European economy."
Read more...
Is It Enough? Tracking Major Economies' Stimulus Measures