Gains for Japan Exports Slow as Delta Wave Hits Car Shipments
(Bloomberg) -- Supply Lines is a daily newsletter that tracks trade and supply chains disrupted by the pandemic. Sign up here.
Gains in Japanese exports slowed more than expected in August as a delta-driven wave of the coronavirus weighed on the global trade recovery and supply chain blockages crimped auto shipments.
The value of Japan's overseas shipments increased 26.2% compared with last year's depressed level, but gains slowed from July's 37% pace amid falling car shipments to the U.S., the finance ministry reported Thursday. Economists had forecast an overall advance of 34.1%. 

On a seasonally adjusted basis, exports edged up 0.8% from July.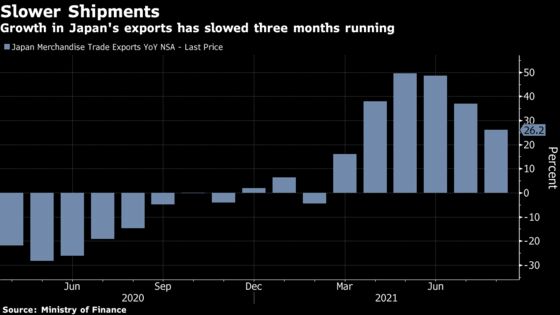 The figures from the world's third-largest economy suggest global trade may be losing momentum as a resurgence in the virus causes factory closures, shipping delays and supply-chain bottlenecks. 
Japan's biggest company, Toyota Motor Corp., last week announced more production cuts due to semiconductor shortages that are likely to weigh further on shipments going forward. 
"I don't see the situation improving for a while with Japan's carmakers announcing major cuts to September output," said economist Harumi Taguchi at IHS Markit. "Exports won't gain momentum much as the delta variant is spreading over the U.S. and other markets."
Exports of steel and chip-making equipment led shipment gains in August. Auto parts were another large contributor, though the year-on-year increase slowed to less than half July's pace.  
The trade report also showed unit shipments of cars slipping last month for the first time since February. The value of those key auto exports continued to increase, but the gains were boosted by a weaker Japanese currency, which had fallen around 3% in the year through mid-August.
Shipments to China grew at the slowest pace in six months with exports of chip-making gear dropping by double-digits. A two-week shutdown at a key Chinese port snarled already stressed shipping routes in Asia and likely gummed up entry into one of Japan's key markets. 
What Bloomberg Economics Says...
"A sharp undershoot in Japan's August exports shows the global outbreak of the delta variant is disrupting both demand and supply. External demand is weakening -- as evidenced by China's disappointing activity data -- while problems securing key components are hampering Japan's industries -- especially cars."

--Yuki Masujima, economist

To read full report, click here.
Despite the slower year-on-year growth in overall shipments, exports were up 7.6% compared with 2019's data, indicating that trade continues to run above pre-pandemic levels. 
A 45% gain in imports, the biggest jump since 1980, triggered a 635.4 billion yen ($5.8 billion) trade deficit, but also signaled robust domestic demand.
Still, any slowdown in exports is likely to drag on a Japanese recovery that's already lagging other major economies as consumers and service businesses grapple with continuing virus restrictions.
Economists still see Japan maintaining growth this quarter, albeit a tad slower, with gains in business investment and government outlays helping to offset a fall in consumer spending. 
Another fiscal stimulus package of around 30 trillion yen is expected to be unveiled by whoever succeeds outgoing Prime Minister Yoshihide Suga in a leadership vote later this month.