G-20 $1.4 Trillion Lost Income Hole Is Plugged But Job Not Done
(Bloomberg) -- The world's biggest 20 economies are mobilizing enough fiscal firepower to compensate for an estimated $1.4 trillion in lost income in the first half of the year, but it's too soon to call it mission accomplished, according to Bloomberg Economics.
The majority of support is being pledged by the richest members of the Group of 20 nations, while emerging markets are doing too little, according to a report published Friday. It means that the coming recession in countries from Russia to Argentina could be "deeper and longer than it needs to be," economists Jamie Rush and Tom Orlik wrote.
"Assuming the outbreak comes quickly under control, fiscal policy is positioned to support a second-half recovery for the world economy," they wrote. "It's advanced economies that are doing what it takes. For many emerging markets, in contrast, with funds in short supply, stimulus looks set to fall short. For that group, even after the outbreak ends, the recession likely will not."
Rush and Orlik put the cost of fiscal stimulus across the G-20 so far at around $1.8 trillion. That includes discretionary government support in addition to the lower tax revenue and higher welfare spending that result from a shrinking economy.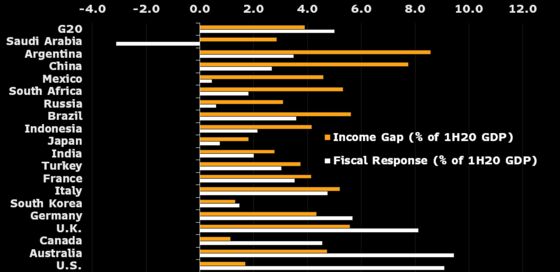 GLOBAL INSIGHT: Show me the Money - Adding up Fiscal Stimulus
The U.S., where the Senate this week approved an historic rescue plan, is doing more than enough, they wrote. Germany, where the response was initially slow, has stepped up to the plate and is more than filling in the income gap created by containment measures. The U.K., which has promised to support the vast majority of people who have lost income, is offering " sizable and comprehensive" aid.
The same cannot be said of emerging nations. China's fiscal response has so far been "limited," and India requires a "significantly larger" fiscal boost if it's to avoid a prolonged recession.
Governments need to provide compensation for lost income, not just loans, to get the economy back on its feet, Rush and Orlik argue "Without income support, households and businesses that start the second half of the year with extra debt would have to pull back on spending while loans are repaid."
The recession is likely to be brutal but short, with advanced economies ready to shoulder the burden, backed by central banks soaking up new borrowing through asset purchases. Yet plenty could still go wrong. The first-half downturn could be bigger than forecast -- early indicators paint a "troubling picture" -- and stimulus could come too late or be poorly targeted.
"Perhaps most worrying -- the outbreak could run for longer than expected," the economists warn. "If that happens, even in advanced economies capacity to stimulate could ultimately be exhausted."