Futures Wash Fears Away, Markets Look to the Green: Taking Stock
(Bloomberg) -- And just like that, we're bouncing. S&P futures are picking up where the index left off into the close yesterday and markets worldwide look to the green (with the exception of the Hang Seng) after a rough-ish day Monday. Canada is set to join the fray today after its holiday Monday, and given the resource and energy-heavy concentration, I'm sure many of the stocks were happy to skip yesterday's action.
Gold is rebounding after setting new 2018 lows below $1240 per ounce earlier while the oil supply issue concerning Saudi Arabia mentioned over the weekend and in Monday's Taking Stock appears to have been further remedied. Saudi Arabia and Russia affirmed last month's agreement between OPEC and OPEC+, putting a bid under WTI crude and some oil servicer stocks in the pre-market. Separately, its unclear what role the Glencore allegations will have on the commodity market going forward.
Facebook just can't stay out of the news. The rest of large cap tech is up this morning in conjunction with the futures, but the co. late Monday said they are cooperating with probes from the SEC and FBI -- again related to Cambridge Analytica and its disclosure of personal information on users.
A good sales month for automakers is expected this morning, as reports start to trickle in closer to the open with industry SAAR seen at 17 million units. One can hope the data is a bit more straightforward than the quarterly deliveries figures we saw from Tesla Monday which seemed to confound investors.
Tesla seemingly hit the mark with its deliveries and production (though expectations are high given its valuation), and while shares were initially higher by close to 7 percent after reports they had met their internal milestones, production figures left investors wanting. Shares gave back the entirety of those gains over the course of the day, closing down 2.3 percent. Cash concerns weighed, but before panic sets in, context is key. One of the largest potentially binary events this year for the company left shares near the mid-point of the month's range and still up over 7.5 percent on the year.
But Tesla wasn't the only strange action Monday. Initial reports of Dell Technologies' intent to acquire the VMware tracking stock sent DVMT (and VMW for that matter) soaring in the pre-market, only to confuse investors upon confirmation. Depending on what value you chose to assign to Dell Technologies, the price could vary. DVMT is trading in the low $90 per share range versus an assumed ~$109 per share for the deal. Adding a wrinkle is the involvement of activists Elliott Management and Carl Icahn, who could push the terms.
But looking ahead today, there's three and a half hours to get any real trading going. Equity markets close at 1 p.m. and there's really only one notable earnings report to watch, and that's Acuity Brands closer to 8:30 a.m. The residential and commercial lighting manufacturer may help illuminate the health of a sector that was caught flat-footed late last week when its European peer Osram chose to cut guidance. Furniture and office supply firms may also get a boost after Herman Miller beat expectations post market.
Good thing the market has a short attention span. Maybe its the staggered holiday week that is keeping participants off balance, or the unusual and unprecedented developments that become easier to handle with each passing day (assuming there aren't any escalations).
Monday began with the sky falling for markets -- a new populist leader poised to throw a wrench in NAFTA/oil supply (though AMLO will be evaluating oil reform)/immigration, seemingly unshakable Germany that nearly saw its political rivets come loose, and Chinese markets continuing their slump on the back of a cratering yuan and poor economic data.
Two quick U.S. data points later (unimpressive beats, if you dove deeper) and 30 minutes into the trading day, it started to become clear that the path of least resistance may be higher. To be sure, the S&P 500 was within 6 points of its month lows, which in and of itself likely provided some support coming off of stronger economic signals ahead of the nonfarm payrolls Friday. Interest rate expectations firmed, while the 10 year -yield rose in lockstep with the S&P --clearly less panic inducing. After the VIX index opened higher by 10 percent, it began a downward decent, ending near the lows down 3 percent on the session. The U.S. is the "best house" in the global stocks neighborhood, as Bloomberg Intelligence chief equity strategist Gina Martin Adams recounted Monday. After all of that, the S&P closed up.
The More Things Change the More They Stay the Same
Do (buy) what you know. And for a market lacking conviction, that's FAANGs (or the greater technology segment) and, more recently as rates plummeted on trade fears, utilities. So why not buy both? There's no question these strange bedfellows were on opposite sides of the spectrum in the first half of 2018, but there's no better indication of a market on a bit of auto pilot than watching late Friday trade into Monday of the holiday week.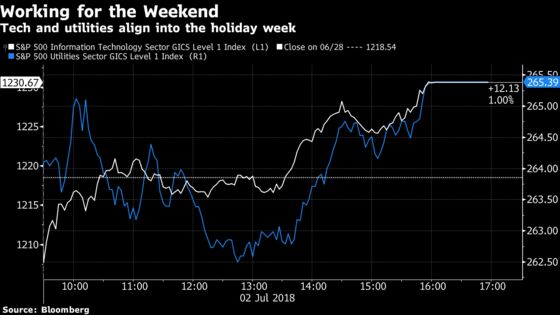 One can barely see the light of day between the charts of sectors that couldn't be more different. Utilities have staged a comeback since mid June -- perhaps even the beneficiary of growth selling on trade fears. But definitely a curious sight to see these sectors leading the S&P.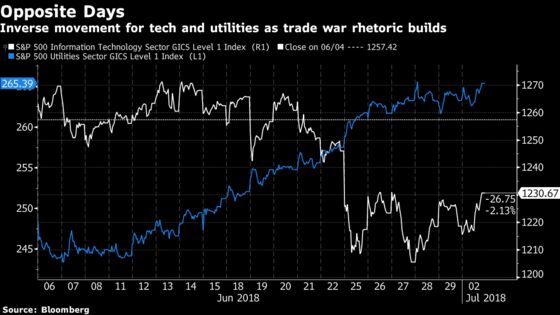 Deutsche Bank was out with a cautious call on airlines (DAL, AAL, UAL), given their exposure to geopolitical and macroeconomic risks with few positive catalysts on the near-term horizon. The ratings were dropped to hold on all three, given the possibility they may trim CAPEX in the face of these risks, which could negatively impact corporate travel.
Small caps are in focus over at Jefferies, as they are "not as cheap" as they once were (which you may have also seen in Monday's Taking Stock). Strategist Steven G. DeSanctis notes that while there was a good run of performance, its rich historically. DeSanctis now favors value over growth.
Tick-by-Tick Guide to Today's Actionable Events
Today -- Stock market closes 1pm
Today -- Auto sales
8:35am -- AYI earnings (roughly)
10:00am -- Factory Orders, Durable Goods
10:00am -- World Cup: Sweden vs Switzerland
1:00pm -- Stock markets close
2:00pm -- World Cup: Colombia vs England
Tonight -- Class 8 preliminary truck orders may be released