FTSE Puts Indian Bonds on Watch for Possible Index Inclusion
(Bloomberg) -- FTSE Russell placed Indian government bonds on the watchlist for possible inclusion in its debt index, a move that may bring the nation closer to its aim of joining a global bond gauge after several false starts.
Rupee securities will be considered for addition to the FTSE Emerging Markets Government Bond Index, FTSE said as part of its semi-annual review released Monday. In the coming weeks, it'll start an index that tracks securities issued under the Fully Accessible Route after investors expressed an interest in the notes.
India has been trying to gain entry into a global debt index since 2019, but talks with index compilers have made little headway. A report this month said India's efforts have been stymied by demands from global bond funds including a request that the government doesn't change tax rules to the disadvantage of investors.
"The attractiveness of IGBs as an ongoing investment will not solely depend on index inclusion," said Arthur Lau, head of Asia ex-Japan fixed income at PineBridge Investments Asia. "Other factors including expected returns based on the prevailing economic conditions, government policies, and relative value to other local bond markets should be taken into account."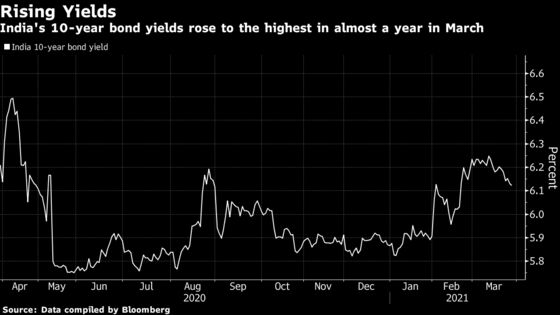 Inclusion in FTSE's index may attract about $10 billion of inflows into rupee securities, said Dariusz Kowalczyk, a senior emerging-market strategist at Credit Agricole CIB in Hong Kong, adding that this was an initial estimate.
India's 10-year sovereign bond yield climbed three basis points to 6.15%, tracking a rise in their U.S. counterpart. The rupee slumped 1% to 73.2075 per dollar as the greenback strengthened.
At its September review, JPMorgan said Indian bonds remain off index and were still under review for inclusion, although about $115 billion in notional value of current and upcoming government debt have been marked for accessibility. Bloomberg LP said in 2019 that it would work with Indian authorities to help the nation gain access to global bond indexes.
Overseas investors have pulled $2.4 billion from rupee debt so far this year after withdrawing almost $14 billion in 2020. Sentiment has soured as India grapples with a widening budget deficit and a near record borrowing program in the coming fiscal year.
Global funds have taken up around 34% of their combined eligible limit of about $47 billion in government bonds under the normal route for all investors including long-term funds. Under the FAR category, where overseas investors can have full ownership of any outstanding bond, total investment stands at about 324 billion rupees ($4.4 billion).
FTSE's announcement will help "ensure greater investment in debt markets and longer term, it will impose greater fiscal discipline on government finances," said Sanjay Mathur, chief economist for Asean and India at Australia & New Zealand Banking Group Ltd. in Singapore.
Bloomberg LP owns Bloomberg Barclays indexes which compete with FTSE Russell gauges.