From U.S. to Germany, Economic Times Seen as Good But Fleeting
(Bloomberg) -- Residents of developed countries from the U.S. to Germany say they're enjoying good economic times a decade after the financial crisis but don't expect them to last for the next generation, according to a new poll.
A median 48 percent of respondents in 18 advanced economies said their country's current economic situation is good, while just 34 percent said their children will be better off financially, according to a Pew Research Center survey released Tuesday. In nine emerging economies, residents feel roughly the same about the current and future situation, though in Brazil and six other nations the balance is tilted toward optimism for children.
The results showed economic confidence has rebounded in many countries following the worst downturn since the Great Depression, and in the U.S., Japan and European Union, public sentiment has reached about its highest level since 2002. At the same time, respondents said the average person's finances are worse than they were 20 years ago and are broadly pessimistic about the future.
"In many societies, people are not that hopeful about what lies ahead for the next generation," Bruce Stokes, director of global economic attitudes at the Washington-based center, wrote in the report.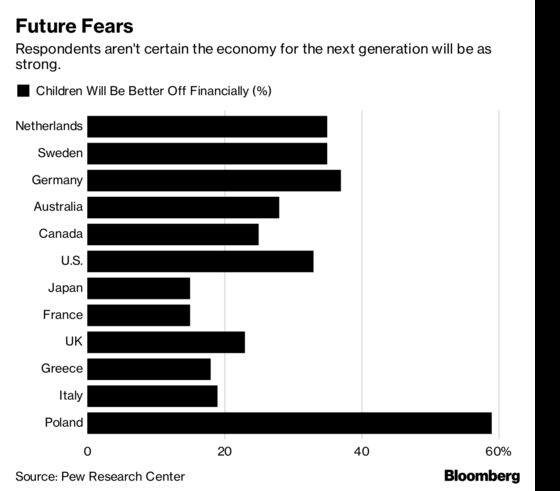 The poll covered 30,133 respondents in 27 countries from May 14 to Aug. 12. The surveyed nations account for nearly two-thirds of global gross domestic product, according to the report.
In the U.S., the world's biggest economy, 33 percent of those polled said today's children will be better off financially than their parents, even as 65 percent of respondents feel positively about the country's current economic performance. Japan and France -- where more than 40 percent of respondents said the economy was performing well -- had the bleakest estimates of any developed country, both at 15 percent.
Poland was the only advanced nation where a majority of respondents believed the economy was strong and that children would also be better off, though residents were more positive on the current state of affairs. Residents in five advanced countries, led by Argentina and Greece, were more positive on the future than the present.
The public sentiment may reflect data trends. Children in the U.S. who grew up to earn higher inflation-adjusted incomes than their parents dropped from 90 percent for children born in 1940 to 50 percent for children born in 1984, according to Brookings Institution data published in July.