From Georgia to Delaware: U.S. County Level Income Inequality
(Bloomberg) -- Much has been written about how income inequality is comparatively high in the U.S. on a national level but less so on how divergent it is within and across states.
Bloomberg identified the most extreme counties in each state-- the bearer of the highest Gini coefficient -- using data from the U.S. Census.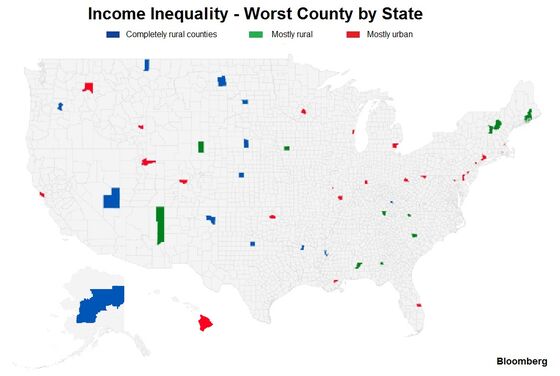 The county with the highest Gini coefficient by state is Randolph county, Georgia (0.63) followed by Issaquena county, Mississippi (0.61). In third place is New York, New York. New Castle County, the northernmost part of Delaware (0.45), had the lowest Gini score.
The Gini coefficient ranges from zero, which reflects absolute equality, to one, complete inequality.
For the full list, click HERE.
These counties may not be the stereotypical wealthiest, nor where the bottom households claimed the smallest share of income in aggregate, nor are they all urban, where there is a confluence of high-earning professionals and low-earning service employment headcounts.
They are the counties where wealth distribution was the most disparate and skewed, across each income cohort.
Another way to look at income inequality is the use the ratio of average incomes among the top 5 percent of households compared to the bottom 20 percent as a proxy, here are some findings:
Monroe County, a mostly rural part of southern Alabama, was the most extreme, where incomes among the top 5 percent of households are almost 185 times the size of those in the bottom 20 percent. Next comes New York county, a.k.a. Manhattan, the consummate urban county, where the income of an average household in the top five percent approached $900,000 while the bottom fifth of households live on less than $900 per month, or a ratio of 85 times.
Among the thirteen completely rural counties, Issaquena county, Mississippi and Lafayette county, Arkansas claimed the highest ratios, at nearly 80 and 70 times respectively.
Randolph county, Georgia, another mostly rural area had the third worst ratio among the 50 states at nearly 83. But, the extremes in the 50 states are split among rural and urban areas almost equally.
The Yukon-Koyukuk, Alaska area had the lowest ratio. Largely due to the lack of extremes at the high end. The top 5 percent of households there have an income of about $185,000.
In 34 counties, the average household in the bottom 20 percent had incomes below that of the federal poverty level, even on the lowest one-person household threshold.
The two counties where annual income for the bottom 20 percent homes exceeded $20,000? Marin county, California and Summit Park, Utah.