From Euphoria to Angst, Welcome to Earnings Season: Taking Stock
(Bloomberg) -- The feeling leading up to earnings was a bit of unease mixed in with lump-in-the-throat anxiety given the barrage of warnings, misses and preliminary disappointments. That tide appeared to shift Tuesday night the second Netflix's earnings statement hit the wires and washed away fears of a second straight miss.
The about-face in sentiment to one of euphoria, aided further by a pair of bullish reports in the beleaguered semiconductor space, didn't exactly hold for the rest of the morning, as the S&P 500 pulled back close to 30 points before reversing and ultimately closing down just shy of the flat line (we're looking down another ~10 handles on the futures this morning).
Netflix pared a sizable chunk of its early gains and didn't end being the savior for the FAANGs or growth stocks in general -- The Russell 1000 Growth Index actually ended the day in the red, thanks to IBM's 7.7% cratering (biggest loss in over five years and dropping to its lowest level in nearly three years), and lagged its value counterpart -- while the SOX cruelly traded in negative territory for most of the trading session.
The feeling now is more of the pre-Netflix unease, but with a slightly elevated sense of hope. But news flow, trading action and sentiment in some of the economic indicator-type sectors has raised a bit of a caution flag -- see the selloff in the rails yesterday after CSX's beat was sold almost immediately off the open, or the sheer ugliness that's on display in the homebuilders space after another bout of Street hate (it got even worse today - see below) and uninspiring housing data; the XHB ETF has now fallen 19 of the last 21 sessions with a decline of 13% in that time frame.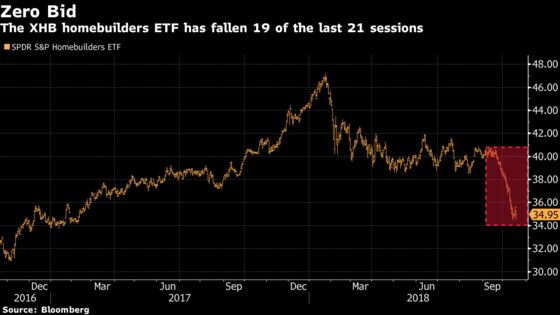 A warning after the bell from smid-cap packaging name Sealed Air (FX and high raw material & freight costs are all culprits) isn't helping things. Neither is a miss from one of its sector peers Crown Holdings, or softening rates from heavy machinery firm United Rentals, or a wide miss by multi-industry name Textron (shares tumbling more than 10% in the pre-market), or negative reactions overseas in chip giant Taiwan Semi (sales outlook fell short), software megacap SAP (weaker license revenues plus a margin whiff), consumer giant Unilever and Germany's HeidelbergCement.
10-year yields ripping back up to above 3.20%, as they did in the last hour of the U.S. equities trading session on Wednesday, will likely spook many longs if we spike above the recent peak of ~3.26% anytime soon.
Plus concerns over China are mounting, from virtually zero headway being made on trade talks to the 144-year-old postal treaty on the brink of collapse to the country's stock market and currency continuing to spiral lower -- Shanghai composite got smashed to the tune of 2.9% (as the yuan sank to its weakest level in two years), and is now down 12% since returning from its one-week hiatus nine sessions ago. And what'll happen with Saudi Arabia remains to be seen.
Net net, a wall of worry continues to stand tall, but swings could lessen and a reset with an eye towards a sustained bounce may take shape if we get more reports like Netflix's and Lam Research's and less IBMs. But if rates continue on their path, any of the assuaging accomplished by future earnings beats and outlook boosts may not even matter.
For the record, of the 63 companies in the S&P 500 that have already released results, 65% beat on sales and 87% on EPS, which compares to 72% and 84% from the final tally last quarter, respectively. While it's a small sample size, the info tech, consumer discretionary, and health care sectors have been perfect when it comes to companies toppling the bottom line consensus.
Packaging stocks should be under pressure from the Sealed Air warning (which could hit plastic-exposed names like Bemis and Berry Global) on FX and high raw material & freight costs as well as a disappointing print from can maker Crown Holdings (watch Ball Corp. and Owens-Illinois for sympathy trade)
Metals stocks, specifically aluminum after Alcoa shot up ~5% and the steel space with Steel Dynamics climbing ~4% on better-than-expected numbers; note Nucor reports later this morning followed by Steel Dynamics' earnings call an hour later
Machinery stocks after United Rentals fell >4% despite a beat-and-raise result (Morgan Stanley said "there is plenty for the bears to pick at," like decelerating rental rates and time utilization) and ag name Lindsay citing tariffs and grain prices for its miss
Homebuilders ahead of 10am data, as the group continues to get weighed down by negative sell-side sentiment, weaker housing data, and elevated rates
Yield proxies if rates keep ticking higher, which may give banks a third straight day of bounces and potentially weigh on utilities, REITs, consumer staples, and yes, the homebuilders
Sectors that may move ahead of earnings tonight include fintech/credit cards (PayPal, American Express), chemicals (Celanese), truckers (Werner), online brokers (E*Trade), footwear (Skechers)
Notes From the Sell Side
Sentiment can't get much more negative on the homebuilders, as analyst after analyst continues to take down numbers and downgrade various members of the complex. Yesterday it was Credit Suisse, today it's BofAML, who tempers its macro housing assumptions in line with its economics team's reduction of 2018-19 housing starts and new home sales forecasts; in turn, the bank removes its buy ratings on Toll Brothers, PulteGroup, and NVR. Separately, RBC cuts its order growth forecasts and price targets for the group, as stretched affordability will keep dampening growth rates in the coming quarters.
Goldman has a big sector re-stack note on the semiconductors, telling clients to avoid analog (Analog Devices and Maxim Integrated cut to sell) and buy stocks with idiosyncratic drivers like Nvidia (added to conviction list), Keysight (upgraded to buy), and Xilinx. The bank also raised Texas Instruments to a neutral and NXP Semi to a buy while downgrading Teradyne to neutral.
Morgan Stanley's Katy Huberty sees China as a growing headwind to Apple's app store growth in the near term, though sees limited downside to estimates and remains bullish on the long-term sustainability of Services growth.
In the consumer space, JPMorgan slashes Gap to an underweight as FY2019 margin pressures are mounting while Oppenheimer lifts Nike to an outperform on its digitally enhanced business model and optimism that the company, and the broader athletic group, are now through their recent woes.
Tick-by-Tick Guide to Today's Actionable Events
7:00am -- PM, DOV, POOL earnings
7:30am -- ADS, WBS earnings
8:00am -- TXT, DHR, BBT, BK earnings call
8:30am -- Philadelphia Fed, Initial Jobless Claims
8:30am -- GPC earnings
9:00am -- NUE earnings
9:00am -- PM, WBC, KEY, BX, TRV earnings call
9:05am -- Fed's Bullard speaks to Economic Club of Memphis
9:30am -- IPOs to trade post-open: Studio City (MSC), SI-Bone (SIBN), Valtech (VLTHF), PhaseBio Pharmaceuticals (PHAS)
9:45am -- Bloomberg Consumer Comfort
10:00am -- Existing Home Sales, Leading Index
10:00am -- DOV, SNA, STLD earnings call
10:30am -- EIA natgas storage
10:30am -- CCI earnings call
11:00am -- URI, GPC earnings call
12:00pm -- Kudlow at Detroit Economic Club
2:00pm -- PPG, NUE, SLG earnings call
4:01pm -- CP, LLNW, PBCT earnings
4:05pm -- AXP, TEAM, ETFC, WERN, WDFC, SKX, ISRG earnings
4:15pm -- PYPL earnings
4:25pm -- CE earnings
4:30pm -- CP, ISRG earnings call
5:00pm -- PYPL, AXP, ETFC earnings call
10:00pm -- China Industrial Production, Retail Sales, GDP
Tonight -- IPOs to price: SolarWinds (SWI), Niu Technologies (NIU), LogicBio Therapeutics (LOGC)