French Wheat Is Benefiting From China's Grain-Buying Binge
(Bloomberg) -- Although a poor harvest has worsened the outlook for French wheat exports, demand from China is proving to be a bright spot.
The Asian country is expected to be France's second-largest buyer in the season that began in July, trailing only Algeria, Paris-based adviser Agritel forecast on Wednesday. Sales there may total 1.15 million tons, below the 1.6 million tons sold last year, but still well above historic levels.
China has stepped up purchases of foreign agricultural products from corn to pork as protein demand recovers and it seeks to plug a shortfall of domestic grain. The government forecaster expects wheat imports to reach a seven-year high of 6 million tons in the year that started in June, with purchases from France, the U.S. and Lithuania rising.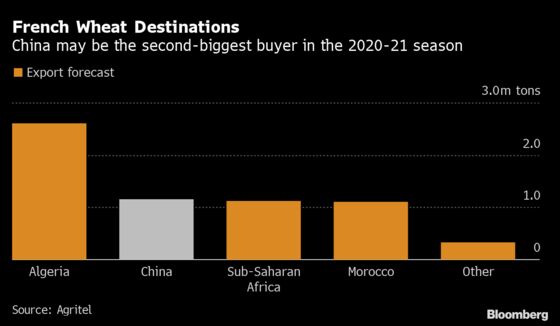 "There is a big competition, but currently the demand from China is very high for all products," Agritel analyst Nathan Cordier said by phone.
China's demand may be a rare bit of good news for French shippers, with Agritel predicting France's sales outside the European Union to slide to 6.3 million tons this season after adverse weather hurt the harvest. That's less than half the record set in 2019 and below a recent forecast by crops office FranceAgriMer.
Aside from China, France will rely on mainstay markets in Africa and is unlikely to sell in Egyptian tenders, which have been dominated by Black Sea shippers, Cordier said.
Still, the export demand and tepid sales by farmers have helped buoy near-term wheat prices. September milling-wheat futures in Paris are trading at a premium to the December contract, compared with a discount a couple of weeks ago.