France Exacerbates Euro-Area Slowdown as China Weakness Mounts
(Bloomberg) -- The euro-area economy is closing out 2018 on a gloomy note, echoing a trend of weaker global growth from China to the U.S.
A gauge of manufacturing and services in the euro region unexpectedly dropped to its lowest in just over four years in December. While the drop was driven mainly by France where the "Yellow Vests" movement led to a contraction, there's also signs that underlying momentum is dropping off.
But political turmoil alone can't account for the weakness that has characterized the euro-area economy since early this year, with trade tensions posing a headwind to investments across the globe. In China, figures on Friday showed slowing production growth and retail sales.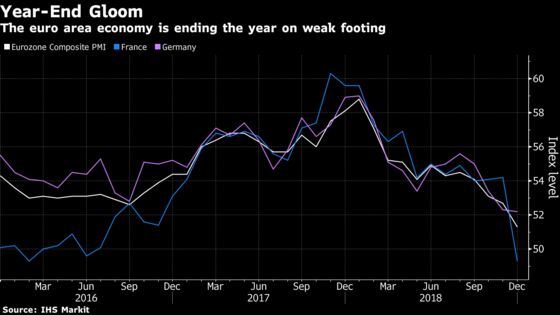 The continued deterioration in economic numbers is forcing policy makers to admit to a new reality after clinging for months to a narrative that the slowdown would prove temporary. European Central Bank President Mario Draghi said Thursday that the world has seen "increased general uncertainty" and risks are gaining traction.
The euro-area composite Purchasing Managers' Index gauge fell to 51.3 in December from 52.7 in November, missing economists' forecast for a slight rise. The decline means the euro-region number has now fallen for nine months this year. The euro was down 0.6 percent at 11:40 a.m. Frankfurt time.
There's "growing evidence that the underlying rate of economic growth has slowed across the euro area as a whole," said Chris Williamson, chief business economist at IHS Markit. "Companies are worried about the global economic and political climate, with trade wars and Brexit adding to increased political tensions."
Within the euro-zone report, forward-looking measures such as new orders and expectations remained subdued, which doesn't bode well for future demand.
Read more: Ahead of Fed, Shift on '19 Policy Call Premature: Eco Week Ahead
The changed outlook will be something for Federal Reserve officials to ponder when they hold their last monetary policy meeting of 2018 next week. In China, policy makers are set to gather next week to set the tone for the year at their annual Economic Work Conference.
With trade tensions looming over both nations, there was some sign of hope on Friday.
Two weeks after President Donald Trump and his Chinese counterpart Xi Jinping agreed to a truce in the trade war, China said it will remove the retaliatory duty on automobiles imported from the U.S. for three months.