French Economy Unexpectedly Keeps Pace Despite Yellow Vests
(Bloomberg) -- A surge in exports covered up a disappointing domestic performance by the French economy at the end of 2018 as the Yellow-Vest protests disrupted consumer spending and investment.
In a final quarter dogged by often violent demonstrations over the cost of living, the economy expanded 0.3 percent, more than economists forecast, with trade contributing 0.2 percentage point. Household expenditure stagnated, and a separate report showed a huge plunge in December alone, the peak month for the protests.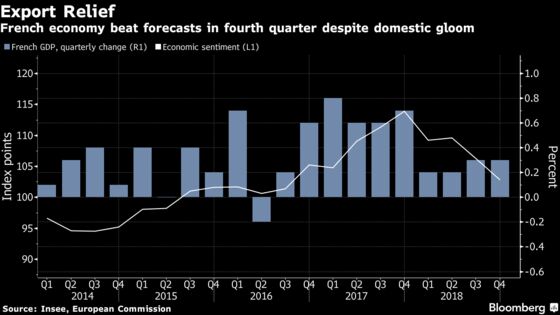 The French GDP figures, which also show the worst year-on-year growth in more than two years -- come a day before data for the wider euro area and some of its biggest members.
The Italian economy probably slipped into recession at the end of 2018 -- a destiny Germany only narrowly avoided after eking out modest growth in the fourth quarter. With business confidence indicators declining amid growing uncertainties over a U.S.-China trade war and the fallout from Brexit, the European Central Bank acknowledged risks to the outlook have "moved to the downside."
With external threats hobbling Germany's economy, the country is relying on domestic demand. Consumer confidence has risen for two straight months. At the same time, a gauge for manufacturing signaled contraction at the start of 2019.
While France's fourth-quarter performance left 2018 growth at 1.5 percent, that's a sharp slowdown from 2017's 2.3 percent. The economy is forecast to post another 1.5 percent rate this year.
What Our Economists Say...
"The economy lost momentum through 2018, with the Gilets Jaunes protests adding to the slowdown in the second half of the fourth quarter...As the protests become less disruptive, growth should improve to 0.4 percent in the first quarter, supported by some recovery from lower discretionary spending in the fourth quarter as well as a boost from fiscal concessions to household disposable income."

--Maeve Cousin, Bloomberg Economics. Read our REACT here
In France, homegrown uncertainties are weighing on momentum. The PMI for services is at a five-year low and consumer spending dropped 2.3 percent in December compared with a year earlier. The Yellow Vest protests are continuing and have forced President Emmanuel Macron to rethink his fiscal policy and launch a two-month mass debate on other reforms.
Private consumption -- the engine of France's economy -- didn't increase in the final quarter, and investment growth slowed to 0.3 percent from 1.7 percent.
"We clearly felt the impact of the yellow-vests movement," Carrefour chief executive Alexandre Bompard said this month. "Everyone would agree that the general mood was not absolutely favorable to shopping."