French Economy Stabilizes as Firms Overcome Protest Disruptions
(Bloomberg) -- The French economy is starting to show some resilience as companies overcome disruptions caused by yellow-vest protests and uncertainties surrounding global growth.
IHS Markit's composite Purchasing Managers' Index rose in February to 49.9, a three-month high that suggests output in the euro area's second-largest economy stabilized. Economists in a Bloomberg survey predicted an increase to 48.9 from 48.2 in January. The euro rose after the report and as up 0.2 percent to $1.1355 as of 9:16 a.m. in Frankfurt.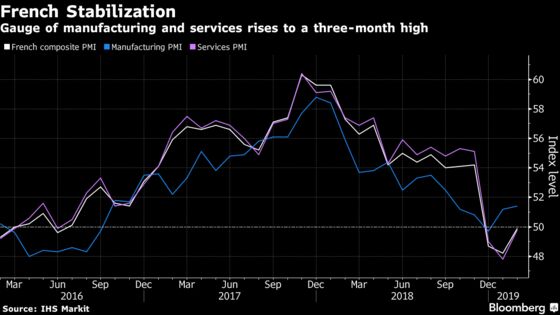 "February flash data pointed to a broad-stabilization in output at private-sector firms in France," said Eliot Kerr, an economist at IHS Markit. "That said, the economy will continue to post below its potential as long as social unrest continues."
While new orders contracted for a third consecutive month, the reduction was marginal in size. Companies in both manufacturing and services continued to hire.
That's good news for the European Central Bank, where policy makers are trying to analyze the severity of the euro area's current slowdown as well as strategies to respond.