French Consumers Help Economy Rebound From Sluggish First Half
(Bloomberg) -- France's economic growth accelerated in the third quarter, rebounding from a sluggish first half thanks to the strongest consumer performance in a year.
The 0.4 percent increase in gross domestic product was twice as fast as the pace recorded in the previous period. While slightly less than the 0.5 percent forecast by economists, the improvement may still offer some relief to President Emmanuel Macron, who's been hit by high-profile resignations and a slump in polls.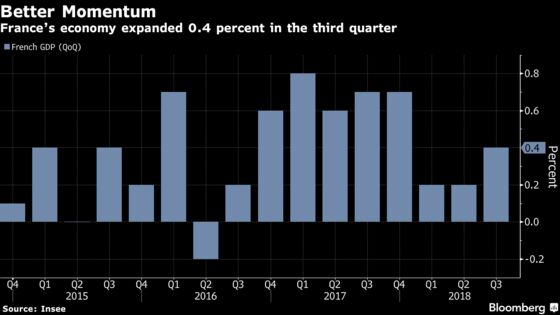 For the euro area, the slight miss in France adds downside risks to the forecast for a 0.4 percent expansion. The Bundesbank has predicted the German economy, the euro area's largest, may have stalled due to issues that disrupted car production. Eurostat will publish the euro-zone GDP number later on Tuesday.
| Data | Release Day | Survey | Prior |
| --- | --- | --- | --- |
| Belgium | Monday | 0.4 (actual) | 0.3 |
| Euro area GDP | Tuesday | 0.4 | 0.4 |
| Italy | Tuesday | 0.2 | 0.2 |
| Spain | Wednesday | 0.6 | 0.6 |
Recent declines in measures of activity and confidence have raised concern about the outlook for the euro area, though European Central Bank President Mario Draghi has said there are temporary factors at play and that underlying momentum remains solid.
That's a view shared by Bloomberg Economics, which says that a deeper slowdown that extends into this quarter "seems unlikely."
But there are risks, with Draghi last week citing protectionism, emerging markets and financial-market volatility. There's also the ongoing clashes between European Union authorities and Italy over the latter's budget plans. Investor concern about the expansive program has hit Italian bonds, pushing 10-year yields to the highest since 2014.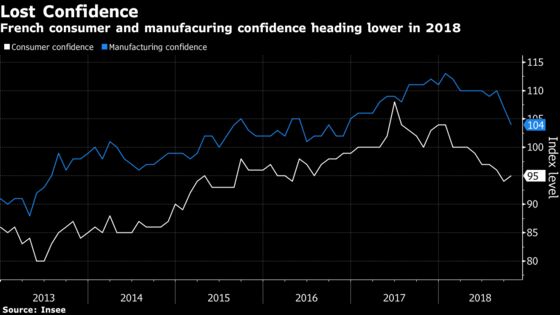 The outlook for France's economy, the euro area's second largest, is also uncertain, after a first-half that was hit by bad weather and labor strikes. Even as tax cuts for workers kick in this month, households are facing rising fuel prices. Meanwhile, businesses say they're struggling to find skilled workers, even with unemployment around 9 percent.
Brexit is another issue, with the government warning businesses this month to start preparing for all scenarios.