French Economy May See Big Rebound After First-Half Weakness
(Bloomberg) -- The French economy may be in line for a bigger rebound than initially estimated, with the central bank revising up its prediction for growth in the third quarter.
Gross domestic product probably expanded 0.5 percent in the three months through September, more than twice as fast as the pace seen in the previous period, the Bank of France said Monday. The upgrade from a 0.4 percent estimate came as indicators showed an improvement in sentiment in manufacturing, services and construction.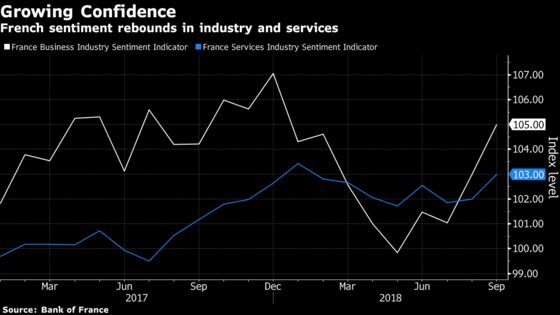 The strong survey provides some rare comfort to Emmanuel Macron's government amid uncertainty over how the economy will perform in the final months of the year. The president is also trying to draw a line after a summer of scandals and setbacks, including the resignation of his most senior cabinet member just last week.
The Bank of France said industrial production was strong across the board in September and services activity grew "rapidly." In October, business leaders expect industrial activity to continue to grow at least at the same pace and services activity to accelerate.