French Economy Fares Worse Than Even Most Pessimistic Estimate
(Bloomberg) -- French economic activity shrank at a record pace in April amid a widespread shutdown of businesses to contain the coronavirus.
IHS Markit's monthly measure of service and manufacturing activity dropped to 11.2 from 28.9 in March, far lower than the worst estimate in a Bloomberg survey.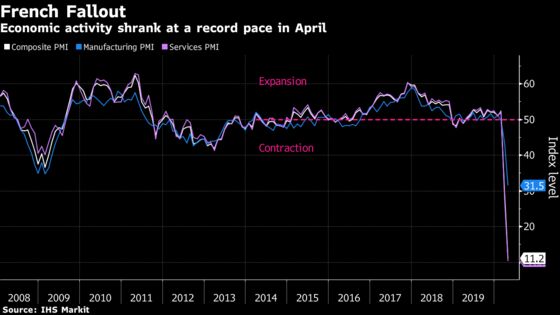 The Purchasing Managers' Index provides a grim -- though not unexpected -- snapshot of the start of the second quarter.
Reflecting the situation and the extreme restrictions governments put in place, the report is full of unprecedented numbers. The gauges for both manufacturing and services fell to record lows, as did those for demand, employment and confidence.
Numbers from Germany, the euro area and the U.K. due later on Thursday are also forecast to show sharp contractions in activity in April.