French Economy Ends 2018 Weakened as Protests Bruise Consumers
(Bloomberg) -- The French economy is ending 2018 on shaky ground as the Yellow Vests protests buffet the retail sector after weaker-than-estimated growth earlier in the year.
Consumer spending unexpectedly fell in November and confidence among retailers slumped to its lowest in three years this month, statistics agency Insee said Friday in its last data releases before Christmas.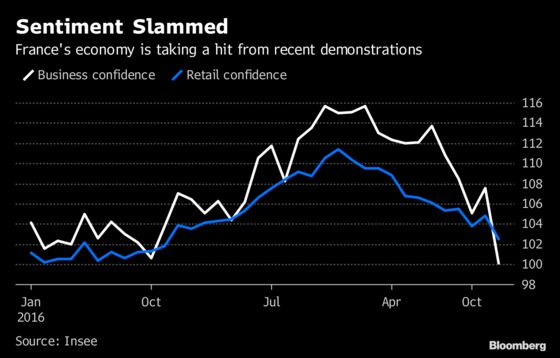 President Emmanuel Macron has attempted to boost sentiment and appease protesters with pledges to cut taxes, especially for low income households. But most of the measures won't kick in until next year.
In another blow to the president, Insee revised down its reading of economic growth in the third quarter to 0.3 percent from 0.4 percent, indicating the French economy had less momentum even before the Yellow Vests began protesting in November.