France's World Cup High Fades as Economic Growth Falls Short
(Bloomberg) -- President Emmanuel Macron's World Cup high lost more of its sheen on Friday, with figures showing economic growth unexpectedly failed to pick up.
While bad weather and strikes played a large part in the poor performance in the first half of the year, it means an end to the economic honeymoon for Macron, just as he could do with a boost to keep reforms on track and defuse a major political scandal within his inner circle.
For the second quarter in a row, gross domestic product expanded only 0.2 percent, crashing down from the 0.7 percent rate averaged in 2017. Economists expected an uptick to 0.3 percent growth in the three months through June.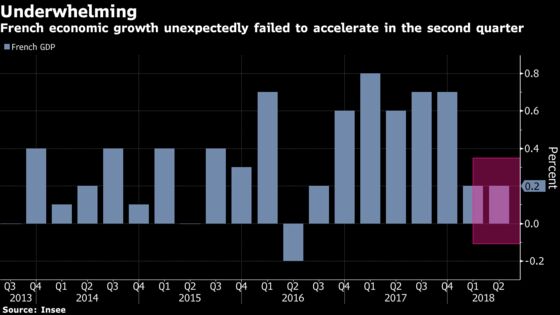 Consumer spending, France's main growth engine, is sputtering. It contracted in the second quarter for the first time in almost two years. In June alone, separate data showed households raised their spending only 0.1 percent, well short of expectations of a 0.6 percent rebound.
The figures are a blow to Macron, who briefly enjoyed a feel-good factor after the French soccer team's victory in the World Cup two weeks ago. He's also embroiled in a scandal over allegations his inner circle covered up an assault on protestors by his personal bodyguard.
Some ministers have warned the scandal could delay efforts to overhaul the economy. He's already made progress on his policy agenda, but coming up is the public pension system -- a mammoth task.
Finance minister Bruno Le Maire is still waiting for a date in parliament to present a wide-ranging bill designed to remove barriers to growth for small companies. He said the risk the plans could be blocked is "what worries me the most."
The economy's rough start to the year was partly due to bad weather and snowstorms, which hit output across Europe. While there's been a general loss of momentum across many economies this year, France's slowdown was exacerbated when rail workers staged industrial action to protest Macron's plans.
What Our Economists Say:
"Overall, we judge there has been a modest loss of momentum in the French economy after a period of strong cyclical growth. But the expansion is set to continue at a healthy underlying pace, even if the headline figures paint a different picture."

--Jamie Murray, Bloomberg Economics
France is the first Group of Seven country to release second-quarter figures. The U.S., which reports later, is expected to have hit 4 percent annualized growth in the second quarter, the fastest since 2014, partly fueled by tax cuts.
The euro-area economy is predicted to have expanded 0.5 percent in the period, up from 0.4 percent in the quarter through March.
Economists expect France will regain some momentum in the second half. Bloomberg Economics sees 0.6 percent growth this quarter, above the consensus estimate of 0.5 percent. The European Commission forecasts full-year expansion of 1.7 percent in 2018, slower than 2017's pace but well above the average of the previous five years.
Trade tensions remains the big risk, though there some relief this week, when the EU won a ceasefire in the tit-for-tat U.S. tariff battle. Bank of France governor Francois Villeroy de Galhau warned last week that the threat alone of increased protectionism could weigh on business investment and financial markets.