Europe's Economy Surprises at End of Pandemic Year: GDP Update
(Bloomberg) -- Three of the euro area's four largest economies rounded off the pandemic year suggesting the region can avoid a deeper recession, while still facing headwinds from extended coronavirus lockdowns.
Gross domestic product in Spain unexpectedly increased 0.4%, defying expectations for a 1.4% drop. In another surprise, Germany also recorded growth, while output in France fell less-than-forecast after consumer spending rebounded sharply in December.
EURO-AREA PREVIEW: Tighter Rules to Spell Second Recession
While the data signal businesses have found ways to cope with restrictions, the outlook remains gloomy. The spread of more infectious virus strains and a slow and chaotic vaccination rollout in the European Union raises the risk of longer curbs and a greater need for stimulus.
European Central Bank President Christine Lagarde has already promised to bolster support if needed. For now though, Governing Council member Gabriel Makhlouf said there's no need to cut interest rates.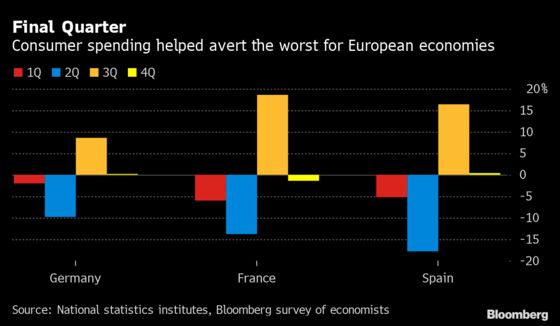 Click TECO for more of today's main economic news. See BECO for analysis from Bloomberg Economics and click here to subscribe to our Supply Lines newsletter.
The Belgian economy grew 0.2% in the fourth quarter, following the better-than-expected trend observed in some of the region's largest economies.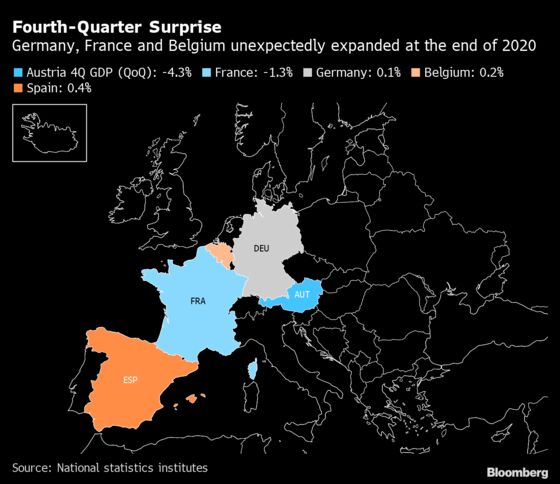 ECB's Makhlouf (10:30 a.m. CET)
Makhlouf said there's currently no need to cut interest rates, adding that the option remains a possibility if the economic outlook darkens.
"Right now, today, I don't think that's warranted," the head of Ireland's central bank said in Bloomberg TV interview. "Our toolkit is available to use and we haven't ruled out using any of our options, including a rate cut. And when we get together in March we'll make a call. It'll depend ultimately on what is happening to the outlook."
The German economy grew 0.1% in the fourth quarter, bolstered by exports and construction. The results mark a surprise after the statistics office suggested two weeks ago output stagnated at the end of last year, and a recent report by the Economy Ministry showed an estimate for a small contraction.
The economy is likely to deteriorate in the first quarter. With Health Minister Jens Spahn warning that vaccine shortages might persist "at least another 10 tough weeks," Germany is likely to extend the current lockdown beyond mid-February.
Bleaker prospects have already triggered a cut in the 2021 growth outlook -- the government said Wednesday it sees the economy expanding 3% this year, with output taking until mid-2022 to return to pre-crisis levels.
Euro-area credit growth (10 a.m. CET)
Loan growth to euro-area households and companies continued to expand in December.
ECB policy makers agreed at their last meeting to take a deeper look into lending dynamics to see how current stimulus measures are affecting credit, after a survey showed banks tightened standards at the end of last year amid concerns about the economy, increased credit risks of borrowers and a lower risk tolerance.
Italian producer prices (10 a.m. CET)
Italy's producer prices continued to decline for an 18th month in December. The annual drop of 2.3% was mainly due to energy prices, which fell 8.2% compared to the previous year.
German unemployment (9:55 a.m. CET)
German unemployment unexpectedly fell by 41,000 in January, marking the seventh consecutive decline. The labor market is benefiting from generous state wage support, which has prevented layoffs.
The country's strong focus on industry has also been a boon as many factories -- unlike small services providers -- remained open during lockdown. The unemployment rate remained at 6%.
Spanish Inflation (9 a.m. CET)
Spain's inflation rate unexpectedly jumped to 0.6% from -0.6%, bolstered by a surge in power prices and more expensive food and beverages. German prices -- reported on Thursday -- also jumped. Data for the euro area due on Wednesday are likewise set to show an annual increase in consumer prices.
Spanish, Austrian GDP (9 a.m. CET)
Spanish growth at the end of last year was driven by a strong increase in household consumption. While good news, it still leaves output down 11% for the full year.
That makes Spain one of the worst-affected countries in Europe. The outsized importance of tourism for the economy and the relatively small size of companies compared to other European peers has left the nation particularly vulnerable to travel restrictions and shop closures.
The Austrian economy contracted 4.3% last quarter, after surging infections forced the nation into a second lockdown. Private consumption slumped at nearly twice that rate, with tourism, trade and leisure also weighing on output.
SPAIN REACT: Activity Nudges Up in 4Q, 1Q Will Be Tougher
French producer prices (8:45 a.m. CET)
Separate data in France showed pricing pressures remained weak in industry at the end of the year, confirming concerns about low inflation. French producer prices in December were down 1.2% on the year, with particularly strong declines for manufactured goods and coking and refining output.
French GDP (7:30 a.m. CET)
With restrictions in place during much of the fourth quarter, consumption was down 5.4%. Business investment though continued to grow, rising 1.5% after a 21% surge in the previous three months. Exports rose 4.8%. The smaller than expected contraction at the end of 2020 means GDP for the whole year fell 8.3%.
Authorities are considering tightening restrictions beyond the current 6 p.m. – 6 a.m. curfew but has held off a decision this week, with Finance Minister Bruno Le Maire saying another lockdown should be a last resort. Such a move would stop the economy meeting the official forecast of a 6% growth in 2021, he said.