Euro-Area Growth Overshadowed by Soaring Inflation: GDP Update
Economic growth in the euro area accelerated in the third quarter following the suspension of most Covid-19 curbs, with inflation reaching the highest level since 2008.
Output increased 2.2% in the three months through September, slightly more than economists predicted. 
The figure reflects stronger-than-expected growth in France and Italy. A surge in consumer spending propelled output in the former to 3%, while the latter reported an expansion of 2.6% that was bolstered by industry and services. Growth also accelerated in Germany and Spain, though it remained below economist estimates.
Euro-area consumer prices surged an annual 4.1%, fueled by energy that was nearly 25% more expensive than last year.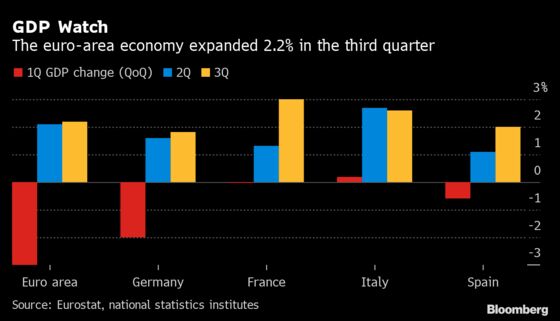 The outlook is blighted with uncertainty. Persistent supply shortages and transportation logjams are leading to factory orders being canceled or delayed, and surging inflation is threatening to undermine consumption.
The European Central Bank pushed back against market expectations of interest rate hikes next year to counter higher inflation, which President Christine Lagarde said will decline in the course of 2022. The Governing Council will receive new forecasts in December, when it plans to decide on the post-pandemic policy path.
Click TECO for more of today's main economic news. See BECO for analysis from Bloomberg Economics and click here to subscribe to our New Economy Daily newsletter.
Euro-area GDP, inflation (11 a.m.)
The ECB has expressed confidence that the euro-area economy will reach its pre-pandemic level by the end of the year amid strong consumer spending. It has also warned that shortages of materials, equipment and labor may hold back the recovery.
That outlook is being put at risk by a steep surge in inflation. While the rate is driven mainly by energy, underlying price pressures climbed to 2.1% in October, the highest since 2002.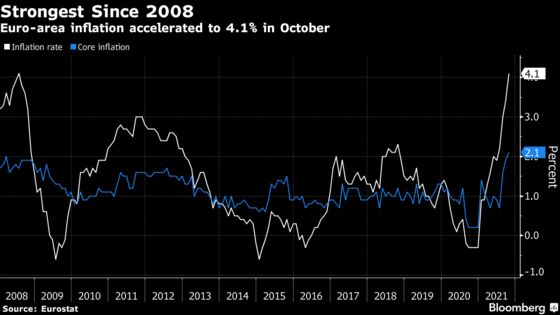 Italian inflation (11 a.m.)
Italian inflation accelerated to 3.1% in October as households faced a jump in the cost of energy which increased 23.4% in the period. The government set aside 3.5 billion euros ($4.1 billion) to protect families and businesses from the power price surge last quarter and said it will continue to act to mitigate prices.
Portuguese GDP, inflation (10:30 a.m.)
Portuguese growth slowed to 2.9% in the three months through September. The country suffered one of the world's worst coronavirus outbreaks at the start of the year and is struggling to catch up with its euro-area peers.
The Bank of Portugal sees the economy expanding 4.8% this year, less than the 5% the ECB predicts for the 19-nation bloc. 
Price pressures in the southern European nation also remain weak. Inflation stood at 1.8% in October and is seen averaging just 0.9% in all of 2021.
German growth barely accelerated in the third quarter. At 1.8%, it remained far below a 2.2% estimate in a Bloomberg survey.
With its strong focus on manufacturing, Europe's largest economy has suffered particularly strongly from lacking supplies. Growth forecasts for this year have been slashed in recent weeks, though next year's performance could turn out better if the flow of parts and raw materials picks up.
Momentum in services has also slowed after the initial reopening boom, and rising infection numbers are threatening to further weigh on the sector in the coming months.
The Italian economy extended its recovery in the third quarter and is on track to expand more than 6% this year. Prime Minister Mario Draghi is concentrating all his energies on boosting growth as a way of helping the country manage its massive debt which is seen nearing 153.5% this year.
A helping hand will come from over 200 billion euros in European Union and national recovery fund grants and loans to be spent on things like infrastructure, health, education, digitalization, and green economy initiatives aimed at making the country more modern and efficient.
ECB Survey of Professional Forecasters (10 a.m.)
Respondents to the ECB's survey of professional forecasters raised their inflation outlook for the period through 2023, but still continue to see a slowdown next year, according to a statement on Friday. Consumer-price growth was seen at 1.9% in 2022 and 1.7% in 2023, while underlying inflation pressures were expected to rise gradually in line with the economic recovery.
Spanish output grew just 2% in the third quarter, much less than expected, as household consumption dropped and local demand saw a slower pickup.
The disappointing results come on the heels of sharp downward revision to the second quarter. That sparked a flurry of downgrades by economists who had expected Spain to record its fastest expansion in more than four decades this year on the back of a travel boom following the end of coronavirus curbs. 
The Bank of Spain said this week it will "substantially" cut its growth forecast for this year and to a lesser extend that for 2022. A boost could come from tens of billions of euros from the EU aimed at overhauling an economy overly reliant on tourism and services, but the ruling coalition is struggling to agree on key labor and pension reforms needed to unlock the funds.
Austria's economy grew 3.3% in the three months through September, extending a recovery that was bolstered by a surge in consumer spending following the end of most coronavirus curbs. Momentum in industry stagnated, the Austrian Institute of Economic Research said.
French inflation (8:45 a.m.)
France's inflation rate rose to 3.2% in October, its highest level since 2008, as services and energy prices accelerated. Finance Minister Bruno Le Maire has said the surge is temporary and to be expected when the economic recovery is strong.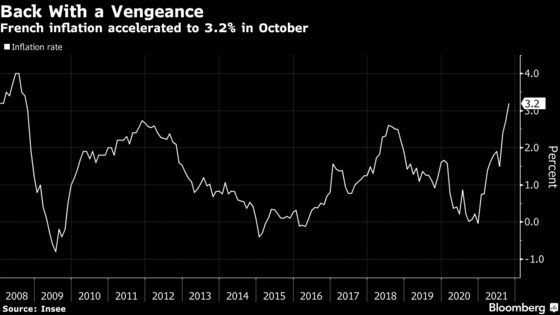 Lithuanian GDP (8:11 a.m.)
Output in the Baltic country stagnated in the third quarter after growth of 2% in the previous three months. Industry and retail trade were among the sectors making positive contributions to gross domestic product, while agriculture weighed on momentum, the statistics office said.
French GDP (7:30 a.m. CET)
France's strong rebound -- also bolstered by trade -- has come as a surprise to President Emmanuel Macron's government at a time when ministers expected to be dealing with bankruptcies and mass job losses after withdrawing emergency support.
Yet there is plenty of uncertainty on the horizon in the euro area's second-largest economy, not least with elections only six months away. In an effort to reassure households, the government has pledged to contain gas and electricity prices and hand out 100-euro "inflation compensation" checks to almost 40 million French people.
Meanwhile, manufacturers are suffering from a global squeeze on supplies. Carmaker Renault cut its production outlook last week because of a worsening shortage of chips.