Economic Confidence Collapses to a Record Low Across Europe
(Bloomberg) -- Confidence among European businesses and consumers is in free fall as shutdowns to contain the coronavirus push the economy into recession.
Figures on Thursday showed French business confidence plunged to its lowest on record in April with economic activity running 35% below normal levels, while consumer sentiment in Germany also dropped to a record low.
The reports are a grim preview for European leaders, who will discuss a possible 2 trillion-euro ($2.2 trillion) rescue plan for the region. Governments have already pledged billions of euros in aid, and the European Central Bank on Wednesday stepped up its efforts to shield the most vulnerable countries.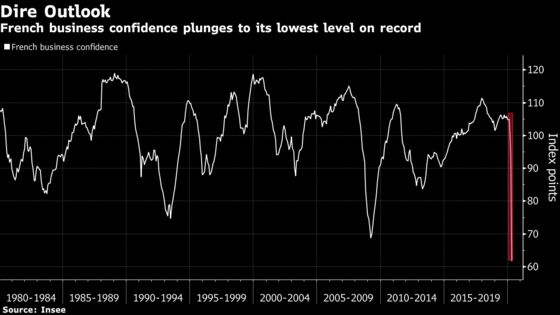 The health crisis and the complete shutdown of several sectors have sent the euro-area economy into a nosedive. A measure of consumer confidence in the region also plunged, and Purchasing Managers Indexes due later Thursday are forecast to show continued dramatic economic weakness.
In France, national statistics agency Insee said business sentiment across sectors registered its steepest monthly decline in April to reach the lowest level since the measure began in 1980.
The German report from GfK showed consumers haven't been this pessimistic in at least four decades. The survey was conducted April 1-14, before the government started to ease lockdown restrictions, fueling hope that a gradual rebound in activity will at least cushion the slump.